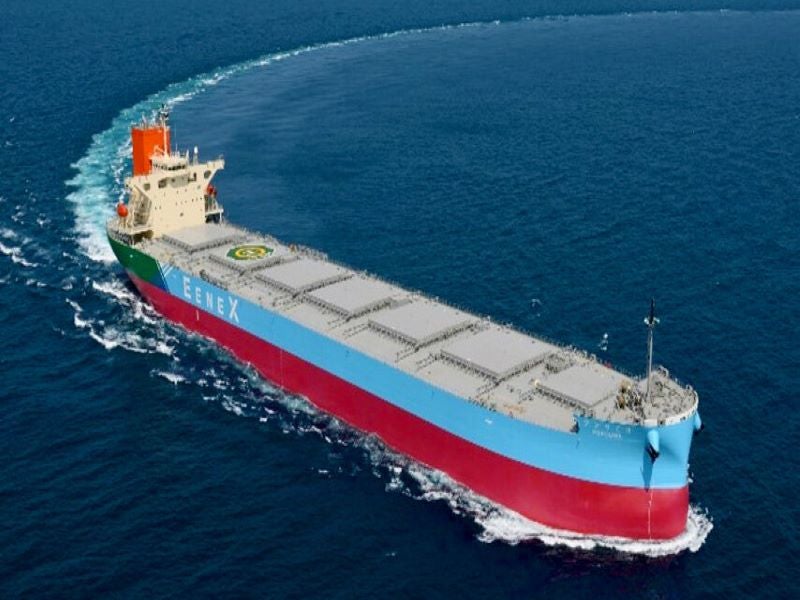 Japanese shipping company Mitsui OSK Lines (MOL) has named its new next-generation coal carrier at Oshima Shipbuilding in Japan.
Part of the EeneX series, the new MOL-operated carrier has been specifically constructed to serve Hokuriku Electric Power Company.
Named Hokulink, the new vessel will be used to ship coal from overseas, along with the already operational vessel Energy Prometheus.
Hokulink is the second vessel in the EeneX series and incorporates a SOx scrubber to help lower its environmental impact.
The vessel features a double-hull structure, which helps avoid filling cargo holds with ballast water, cutting down the risks of marine pollution and contamination of cargo with salt and rust.
The hold's semi-box shape prevents cargo from accumulating inside, thereby helping expedite cargo handling.
Hokulink has an overall length (LOA) of 234.96m, breadth of 38m, a draft of 20.05m and deadweight tonnage of 89,999 tonnes.
MOL stated: "The name Hokulink is derived from the name of Hokuriku Electric Power Company's regional membership services, called 'Hokulink', and represents a wish for the growth of the Hokuriku region with stronger relationships in the region through the operation of the vessel."
In 2019, MOL revealed the vessel design of EeneX, a 90-type (90,000dwt) next-generation coal carrier developed in partnership with shipyards in Japan.
Earlier this month, MOL collaborated with Nihon Shipyard and Shin Kurushima Dockyard to build four liquefied natural gas (LNG) powered car carriers.