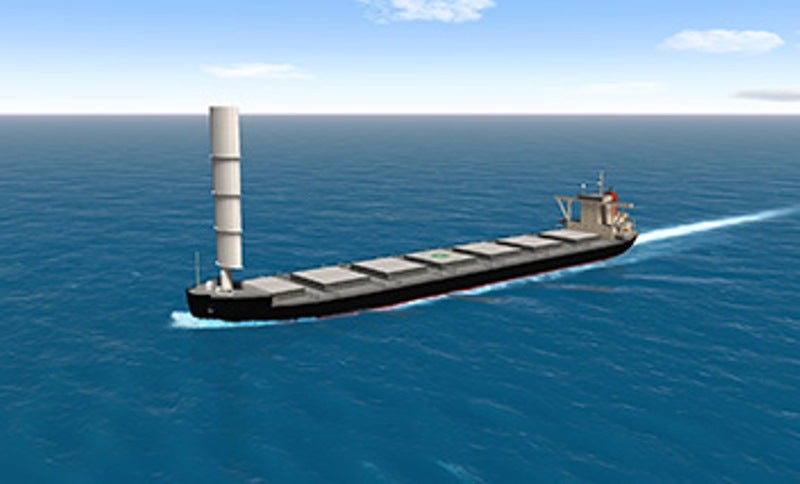 Japan-based Mitsui OSK Lines (MOL) and Oshima Shipbuilding have received an approval in principle (AIP) from ship classification society ClassNK for hard sail system design.
The system uses a telescopic hard sail to convert wind energy into propulsive force. It is a fundamental technology of the MOL and Oshima Shipbuilding-led Wind Challenger Project.
The Wind Challenger Project aims to reduce greenhouse gas (GHG) emissions by using wind energy to propel ships. The approval marks the completion of the initial design.
The Japanese companies are planning to launch a newbuild vessel equipped with a hard sail.
The technology is expected to cut the vessel's GHG emissions by approximately 5% on a Japan-Australia voyage and by approximately 8% on a Japan-North America West Coast voyage.
The companies aim to develop a solution that achieves the International Maritime Organization (IMO) target together with other GHG reducing measures by installing multiple sails in vessels.
The University of Tokyo, Ouchi Ocean Consultant, Kanazawa Institute of Technology, Innovative Composite Center and Tokyo Keiki have also joined the Wind Challenger Project.
In June, Oshima Shipbuilding and classification society DNV GL partnered to develop designs for low-emission bulk carriers.
The companies have already designed the Oshima Ultramax 2030 ship that is expected to reduce the Energy Efficiency Design Index (EEDI) by 50%.
In April, MOL received the delivery of a very large crude carrier (VLCC) Phoenix Jamnagar that was constructed by the Japanese logistics firm Japan Marine United Corporation (JMU).
MOL Singapore-based subsidiary Phoenix Tankers controls the operations of the new vessel.