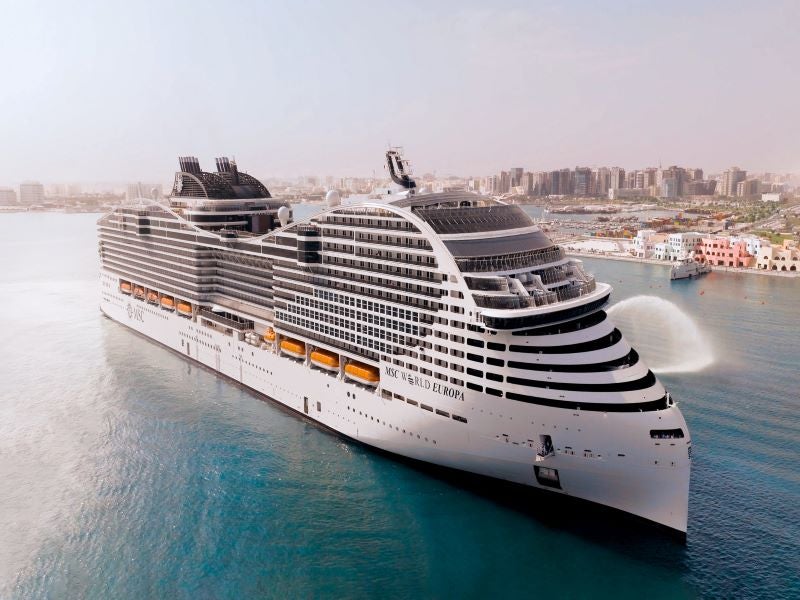 Switzerland-based MSC Cruises has held the naming ceremony for its new cruise ship, MSC World Europa, at the new Grand Cruise terminal in Doha, Qatar.
The ceremony was conducted along with its partner Qatar Airways.
Said to be the most 'environmentally advanced' cruise ship in the MSC Cruises portfolio, the 154ft wide vessel has more than 430,000ft² of public space.
With a gross weight of 215,863 tons, MSC World Europa has 22 decks and 2,626 cabins.
It also features 33 restaurants, bars and lounges.
The cruise ship is designed to run on liquefied natural gas (LNG), followed by other alternative fuels when they are available at scale.
This will help it avoid local air pollutant emissions, such as sulphur oxides, as well as lower nitrogen oxides by up to 85% and CO₂ emissions by 25%.
MSC World Europa is also claimed to be the world's first contemporary cruise ship to be equipped with new solid oxide fuel cell (SOFC) technology powered by LNG.
It features a 150-kilowatt SOFC demonstrator, which will use LNG to generate electricity and heat on board through an electrochemical reaction.
To comply with Baltic standards, the ship also incorporates selective catalytic reduction (SCR) systems, shore-to-ship power connectivity, and advanced wastewater treatment systems.
Last month, MSC Cruises and Chantiers de l'Atlantique officially started the construction of MSC's second World Class ship, which will be named MSC World America.