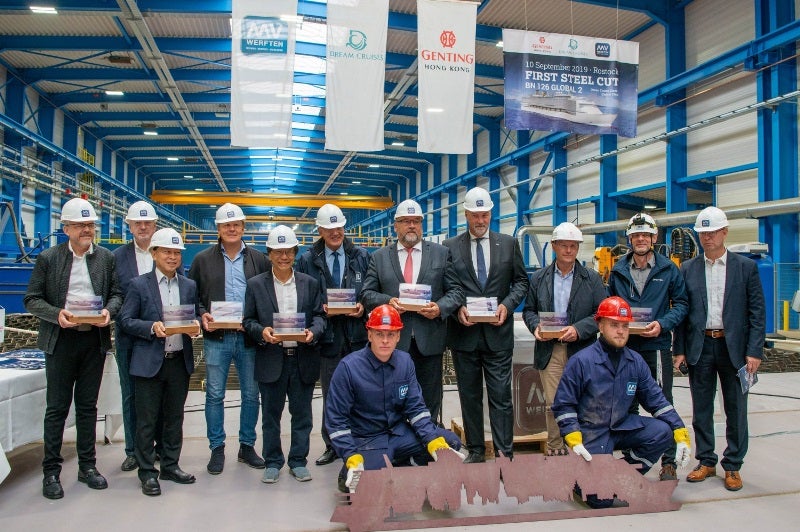 Shipbuilding company MV Werften has started the construction of a second Global class ship Global 2 at Rostock-Warnemünde, Germany.
The company has employed more than 600 firms for the Global 2 project that will be delivered in 2022.
The construction start was marked by the first steel cutting. The project has commenced a year after work on the first Global class ship started.
Named Global Dream, the first vessel is expected to be delivered in 2021.
The new ship Global 2 will be 342m-long, 46m-wide and weigh 208,000 gross tonnes (GT).
MV Werften has split the new vessel's production operations between three of its facilities.
The site in Stralsund is responsible for delivering up to 30 large sections.
The ship's construction will reach its final stages in Wismar, where a 125m-high crane is being installed for the Global project.
Genting Hong Kong's CEO Tan Sri Lim Kok Thay said: "We are delighted that our comprehensive investments at the three shipyard locations are bearing fruit and we can already celebrate today the first steel cutting for another technologically advanced vessel for Dream Cruises.
"Also, thanks to the use of artificial intelligence, Global 2 will offer our passengers a very interesting, modern and highly comfortable travel experience."
Global 2 will have 2,503 passenger and 836 crew cabins that will be able to accommodate up to 9,500 travellers and 2,200 crew members respectively.
All passenger and crew cabins are prefabricated modules built at MV Werften Fertigmodule in Wismar.
The ship is equipped with advanced technology, including face and speech recognition, climate control and mood lighting.
The Global Dream and Global 2 will be the first vessels to carry over 10,000 people on board.