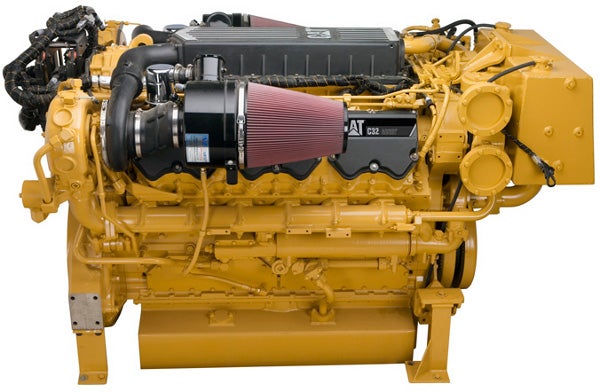 Caterpillar Marine Power Systems has been selected to provide three Cat C32 Diesel Electric Propulsion (DEP) engines to repower the Showboat Branson Belle, a dinner cruise vessel.
Each C32 engine will provide the cruise vessel, which is to be built on a land-locked lake in the US, with 910ekW at 1,800rpm,
The cruise vessel will have a length of 278ft, weight of over 1,100t (2.5Mlb) and will be capable of carrying 700 passengers.
The engines are expected to be delivered in early 2012 and the cruise liner should be back in regular service in Table Rock Lake, Missouri, in March 2012.
Caterpillar Marine Power Systems sales manager Jim Mundth said the goal of this specific project was to improve the overall sustainability of the Branson Belle's operations using the latest engine emission technology.
"The Cat C32 ACERT DEP package provides the latest in emissions technology at a competitive price and is complimented by service and support from Fabick, the local Cat dealer," Mundth said.
The company said that its C32 ACERT technology will allow the cruise vessel to reduce the NOx and PM emission-heavy vessels of its operations.
The ACERT technology features a new engine combustion process that reduces engine wear and minimises the amount of fuel needed to support the complete electrical load of the vessel.
A Cat ADEM electronic controller coordinates and enhances fuel delivery, air supply and other engine functions to maximise overall performance and reduce emissions output.
Cat's Missouri-based dealer Fabick, which led the company on the project, will continue to provide sales and service support upon engine delivery and installation.
Last month the company launched a new C175-16 marine propulsion engine designed to meet EPA Tier 3 and IMO Tier II emissions requirements.
The new marine propulsion engine comes in power ratings of 2,001-2,168kW at 1,600rpm and 2,239-2,550kW at 1,800rpm, extending the firm's high-speed portfolio beyond the existing 3516C-HD engine.
The new engine is based on the C175 version, which the company offers for other non-road applications to meet EPA Tier 4 requirements.
According to the company, the C175-16 is suitable for offshore support vessels, tugs and workboat applications, and features technology advancements and updates to ensure maximum productivity and minimal environmental impact.
Additional features of the C175-16 include turbocharged and aftercooled aspiration; MCS-approved monitoring, alarm and protection system; cross-flow head design; and simplified electrical system.