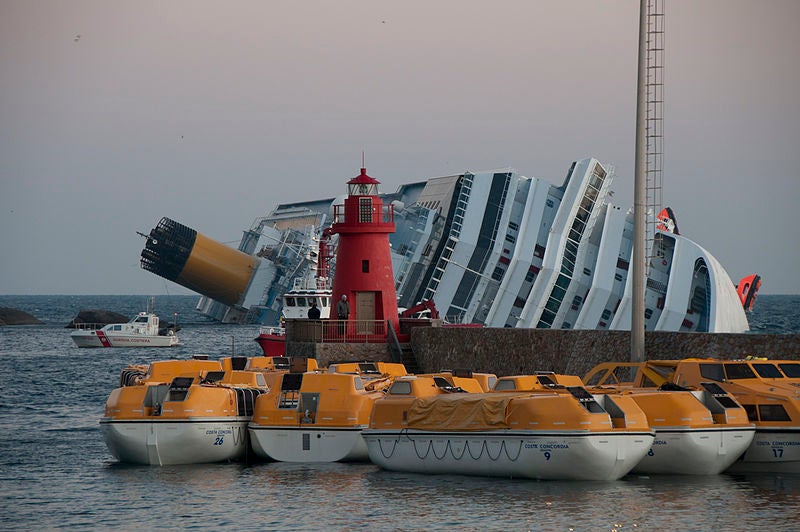 The company operating the Costa Concordia cruise ship which capsized after hitting rocks off western Italy, killing six, says the captain may have 'committed serious errors' that led to the accident.
Operator Costa Crociere told Reuters the captain Francesco Schettino has made 'serious errors of judgment' and had brought the ship too close to shore, where it struck a rock that tore a large hole in the hull.
The cruise ship, carrying more than 4,200 people, ran aground off the Tuscan island of Giglio off the west coast of Italy on Friday and, according to reports, at least six people have died, with 15 passengers still missing.
The cruise liner sank after hitting a reef only 300m from the shore as it came too close to the shore of the Tuscan island on its route to Savona in north Italy.
The accident occurred when passengers were sitting down to dinner on Friday night, triggering panic among passengers with many rushing for lifeboats and some desperately leaping into the icy sea.
A coast guard spokesman Luciano Nicastro was quoted by SkyTG24 as saying "there was a dangerous close approach which very probably caused the accident, although it will be for the investigation to establish that fully."
The vessel was on a Mediterranean cruise starting from Civitavecchia, Italy, with scheduled calls at Savona, Cagliari and Palermo, Italy, Marseille in France and Barcelona and Palma de Mallorca, Spain.
A statement by Carnival Cruise lines, owner of Costa Cruises, said among the passengers there were about 1,000 Italians, 500 Germans and 160 French, plus the crew numbered about 1,000.
The 114,500t vessel, operated by Costa Cruises and built in Italy, is reportedly the largest and most luxurious vessel from the family of Costa Cruises, with a length of 290m and a beam of 36m, and has been in service since 2006.
Caption: According to reports, captain Francesco Schettino has made 'serious errors of judgment' bringing the ship too close to shore. Image courtesy of Rvongher.