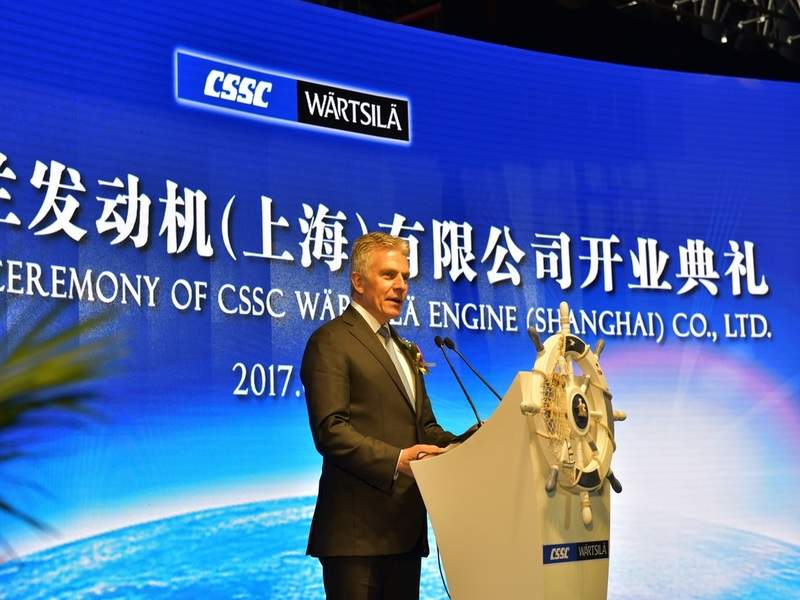 CSSC Wärtsilä Engine (CWEC), a joint venture between Wärtsilä and China State Shipbuilding (CSSC), has opened a new production facility in Lingang, Shanghai.
Featuring 20,000m² of space, the new plant will manufacture large-bore as well as medium-bore, medium speed diesel and dual-fuel (DF) engines.
With a planned capacity of 180 engines per year, the new plant will also produce Wärtsilä 26, Wärtsilä 32, Wärtsilä 34DF, Wärtsilä 46F, and Wärtsilä 46DF engines.
"Being close to our customers in order to serve them better is central to Wärtsilä's global strategy."
So far, CWEC has won more than 70 engines orders from companies operating in cruise, ferry, liquefied natural gas (LNG) carrier, offshore, special vessel, and large container ship markets.
Wärtsilä president and CEO Jaakko Eskola said: "Being close to our customers in order to serve them better is central to Wärtsilä's global strategy.
"We are, therefore, extremely pleased to officially open this modern production facility, the first in China capable of producing DF engines, which will serve China's shipbuilding industry with high-quality, technologically advanced Wärtsilä marine engines.
"It is an honour to be sharing this day with our joint venture partners, CSSC, one of China's most modern industrial corporations. Together, we are supporting China's shipping industry's move into the age of LNG fuel."
Separately, a three party strategic cooperation agreement between CWEC, Wärtsilä, and Hudong-Zhonghua Shipbuilding Group, a subsidiary of CSSC, was signed to build more cooperation among the companies.
Under the deal, the three companies will work together on new build vessel project opportunities for engines and other marine equipment, and will jointly optimise vessel concepts in order to improve efficiency and environmental sustainability.
CWEC has also signed new letters of intent with ENN (Zhoushan) LNG (ENN) and Ningbo Xinle Shipbuilding Group (Xinle) to supply Wärtsilä 34DF dual-fuel main engines for an 8,000m³ LNG bunkering vessel and Wärtsilä 34DF dual-fuel engines for two 7,500 deadweight tonnage (DWT) cement vessels, respectively.
---
Image: CWEC's plant opening ceremony in China. Photo: courtesy of Wärtsilä.