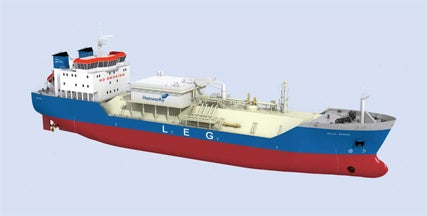 Hamworthy Oil & Gas Systems has won a contract to deliver a complete cargo handling systems for a pair of liquid ethylene gas (LEG) carriers to be built at Sinopacific Offshore & Engineering (SOE) in Nantong, China.
Each of the 139m long vessels will have a capacity of 12,000m3 and be equipped with onboard cargo handling systems designed to transport LEG at temperatures as low as -104°C. The semi-pressurised and refrigerated LEG carriers will be included in an ongoing project for the construction of six ships for Jaccar Holdings / Eitzen Ethylene Carriers.
Hamworthy Oil & Gas Systems director of LPG business unit Stein Thoresen said China is a leading country in the new contract market and, increasingly, it is investing more in vessels for gas transportation. "We see this innovative project as a very significant reference for Hamworthy in the gas ship market in China," Thoresen said.
The vessels will be operated under the name Evergas (formerly Eitzen Gas) and built in accordance with Sinopacific's Tiger design, and are scheduled to be delivered from this year onwards. The company said that the contract follows equipment orders for the first six LEG carriers in the Tiger series, which it signed with Sinopacific at the end of 2010.
The order covers the engineering and supply of cargo handling systems, including re-liquefaction plant and Hamworthy Svanehøj deepwell cargo pumps. The company said that the Tiger series vessels are build to achieve enhanced intact and damage stability performance, easy cargo loading operations and better floating conditions for navigation.
SOE have also won an order to build another four ethylene carriers from Copenhagen-based Evergas, which will be built to either 12,000cbm or 17,000cbm class. According to reports, the gas carriers will cost $43m each if the owner goes for 12,000cbm vesels or around $50m if the 17,000cbm size is chosen.
Caption: The 12,000m3 LEG carrier will have onboard cargo handling systems that can transport LEG at a temperature of -104 °C. Credit: Hamworthy.