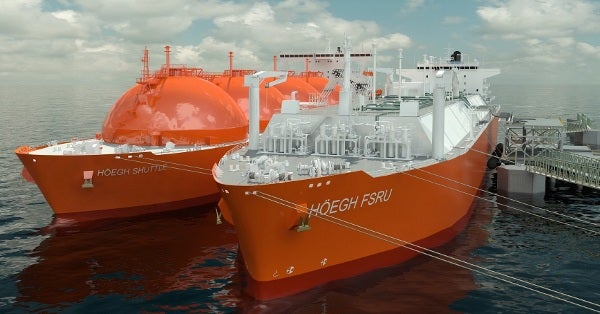 Norwegian maritime liquefied natural gas transporter company Höegh LNG has exercised an option to build a new floating storage and regasification unit (FSRU) at South Korea's Hyundai Heavy Industries (HHI).
Delivery of the FSRU is scheduled for the second quarter of 2014, and its specifications will be adapted to comply with relevant project requirements.
Höegh LNG president and CEO Sveinung Støhle said with the company's two FSRUs on order for specific projects in Indonesia and Lithuania, it continues focusing its growth plans on the floating regasification market and is currently participating in several tender processes for additional FSRU projects.
"We have therefore decided to place an order for a third FSRU to be built at Hyundai. Our strategy to expand in the floating regasification market worldwide remains firm and we believe in strong continued growth in this segment," Støhle said.
Hoegh has also raised funds of NOK1.2bn ($206.54m) through the private placement of more than 22.6 million new shares at a price of NOK53 a share.
The placement represents about 48.16% of the company's current outstanding share capital. The placement was managed by DNB Markets, ABG Sundal Collier Norge and Pareto Securities as joint bookrunners.
The company will use the proceeds from the placement to fund existing and additional FSRU newbuilds and support future growth.
"This further strengthens our capital base and improves our position in the very favourable and growing LNG industry, confirming our unique position as one of the three leading companies within the floating LNG regasification segment," Støhle said.
In June 2011 the company placed a $500m order at HHI to build two 170,000m³ FSRUs, which were scheduled to be delivered by the second half of 2013 and the first half of 2014 respectively. The LNG FSRUs will have a length of 294m, a width of 46m and will have the capacity to store 70,000 tons of chilled natural gas.
Image: Hoegh has now ordered three floating storage and regasification vessels (FSRUs) at Hyundai Heavy Industries. Photo: Hoegh LNG.