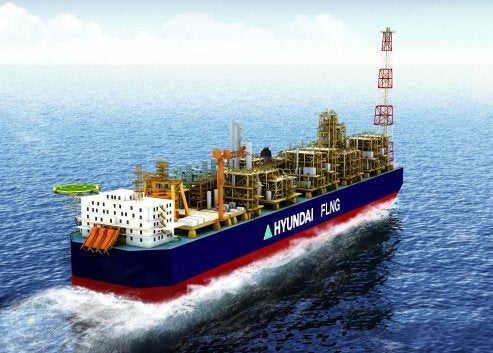 Hyundai Heavy Industries (HHI) has developed its own Hyundai floating liquefied natural gas concept vessel in association with Germany-based company Linde.
The floating liquefied natural gas (FLNG) concept is a special floating vessel that can produce natural gas, liquefy it and offload it directly to an LNG carrier. The Hyundai FLNG will have a length of 355m, breadth of 70m and height of 35m; will produce 2.5Mt of liquefied natural gas a year; and will store 193,800cbm.
The shipbuilder has received approval in principle (AIP) for its self-developed Hyundai FLNG from Norway's DNV.
HHI senior vice-president of offshore and engineering Kim Yoon-choon said the FLNG has an efficient and economical production capability in that it takes just 45 months to build. "Considering the fact that the need for the development of stranded offshore gas fields is expected to be on the rise in future, we will continue to step up our effort to win orders to build the Hyundai FLNG," Yoon-choon said.
The company said that, compared with the onshore liquefaction and storage plant, its FLNG will take 25% less time to be built, which makes it an attractive option for oil majors and global shipping companies looking to commercialise stranded gas in offshore fields.
The FLNG consists of hull and topside facilities, which include liquefaction, pre-treatment units, fresh water supply unit, air compression, and heat source and power generation systems. The company claims that the development of the unit makes it the only firm that can conduct engineering, procurement, installation and commissioning for both the topside and hull part of a vessel.
Hyundai HHI expects the FLNG market to grow further as a result of rising oil prices and increase in natural gas demand triggered by the Japanese nuclear disaster, all of which may boost the development of offshore gas fields.
In addition, HHI has been selected as a core institute for the development of FLNG systems engineering by the LNG Plant R&D centre of KOGAS and is set to develop the Korean FLNG by 2016.
Caption: HHI's FLNG concept, which will take 25% less time to be built, produces 2.5Mt of LNG annually.