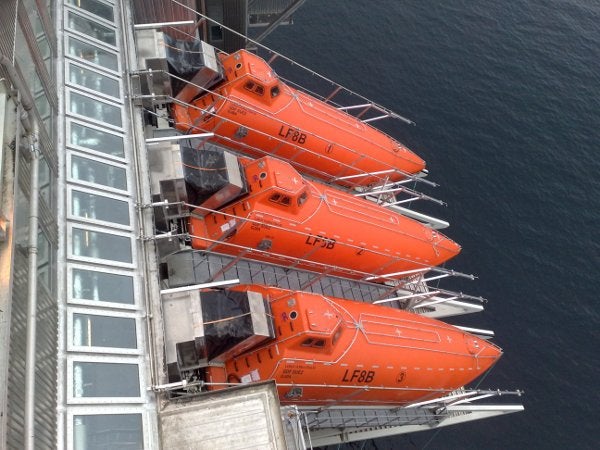 Norsafe has won a contract from South Korea's Samsung Heavy Industries (SHI) to deliver large free fall lifeboats and davit arrangements for the world's biggest floating offshore installation, the Shell FLNG facility, off the coast of Australia.
Norsafe's GES50 free fall lifeboats for Shell FLNG have a capacity of 70 people each and are certified for a drop height of 40 metres. The company said that in an emergency situation free fall lifeboats offer the crew the safest evacuation of the installation.
Including this contract, the company has more than 30 offshore free fall lifeboat systems in its orderbook. The FLNG facility is stationed about 200 kilometres from the nearest land in Australia to produce gas from offshore fields, and liquefy it onboard via a cooling system.
Shell will own and operate the Prelude floating liquefied natural gas (FLNG) facility which will have a length of 488 metres, width of 74 metres and be capable of carrying around 600,000 tons.
According to the company the FLNG technology will reduce both the project costs and the environmental footprint of an LNG development. FLNG technology removes the need for long pipelines to shore, compression platforms to transfer the gas to shore and large land-based processing installations.
With the technology, the gas is processed at the field, where ocean-going LNG carriers offload liquefied gas directly from the installation at sea for delivery to markets around the world. The FLNG installation has been designed to withstand severe weather conditions, even a category five cyclone.
In June 2011, SHI won a KRW3.28tn ($3bn) order from Shell to build an LNG floating production storage and offloading vessel (FPSO).
The LNG will be built by the South Korean shipbuilder as part of a consortium with France's Technip that will engineer, procure, construct and install the vessel.
Prelude FLNG will float in waters off of the northwestern coast of Australia and be capable of producing 3.6Mtpa of LNG and additional volumes of condensate and liquefied petroleum gas.
Floating LNG will allow production, liquefaction, storage and transfer of LNG at sea, helping to open up new offshore natural gas fields that are currently too costly or difficult to develop.
Image: Norsafe's GES50 free fall lifeboats will have a capacity of 70 people each and are certified for a drop height of 40 metres. Photo: Norsafe.