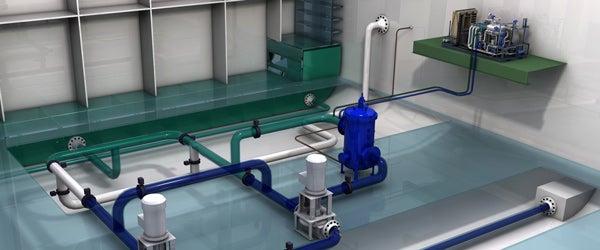 Norway-based OceanSaver has received DNV-type approval certification for its next generation Mark II ballast water treatment (BWT) technology.
Mark II BWT is a tailored version of the existing approved Mark I model, and is intended to help reduce installation time and complexity for newbuild and retrofit projects.
The better performing filtration system is compliant with the IMO Performance Standard for Protective Coatings (PSPC) and is also approved for installations in gas hazardous areas, a prerequisite for tanker applications.
OceanSaver CEO Houtan Houshangi said the company has successfully passed all DNV-type approval requirements guaranteeing that Mark II fully meets the requirements of the International Ballast Water Convention and the Norwegian Administration.
"Mark II-type approval lays the foundation for OceanSaver to rescale its BWT business, technology and supply chain locally in Europe and in the Far East, which are where we see the greatest demand," Houshangi said.
The Norwegian firm said that it is positioning Mark II as a consistent, cost-effective and dependable ballast water treatment application for the medium-range vessel market, apart from the previously focused larger sized vessel segment.
The energy required for the complete system and related equipment is 50% less for the Mark II than for the first generation and requires no treatment at de-ballasting operations, increasing cost efficiency.
The company has won a $7m order to deliver Mark II systems for two Suezmax tankers at China's Bohai Shipbuilding Heavy Industry and four bulk carriers at SPP Shipyard in South Korea.
The order represents the company's first bulk carrier BWT system delivery, consisting of the supply and installation of four sets of Mark II ballast systems, each with a treatment capacity up to 2 x 800m3/h.
Caption: OceanSaver's Mark II BWT system for bulk carriers is expected to help reduce the installation time and complexity of newbuild and retrofit projects. (Image courtesy of OceanSaver.)