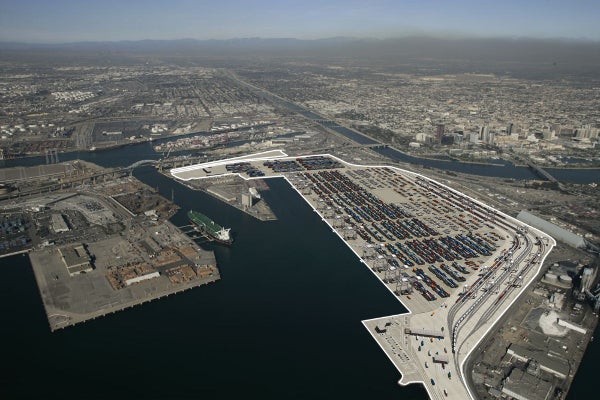 Orient Overseas Container Line (OOCL) and the Port of Long Beach have signed a 40-year, $4.6bn lease agreement for a major shipping facility in California, US.
Port of Long Beach executive director Christopher Lytle said this agreement represents a major endorsement of the company's vision for the port by one of the world's leading maritime companies. "We look forward to working with them to bring more jobs and economic vitality to southern California, while building the most technologically advanced and greenest container terminal in the world," Lytle said.
Under the deal, OOCL and its terminal operating sister company Long Beach Container Terminal (LBCT) will occupy a 300-acre site known as Middle Harbour, where the port's largest-ever terminal upgrade and expansion project is underway. The Middle Harbour terminal will be built in phases, with the first phase scheduled to be completed in 2016. Upon completion, OOCL will occupy that portion of the terminal while the LBCT segment is built out.
The development of the terminal is expected to generate more than 14,000 new, permanent jobs throughout southern California by 2020 and will be completed in 2021. The redeveloped terminal will be fully automated and upon completion it will have a 3.1Mteu capacity.
Long Beach is investing $1.2bn in the project, while OOCL and LBCT will invest $500m in the cargo-handling equipment.
LBCT, which has been operating in Long Beach since 1986 at a 100-acre facility, will move into a new development that is more than three times that size.
The company said that the project is a redevelopment of two older port terminals (Pier F and E) that will be merged into one. The new terminal is expected to double the existing capacity through the use of advanced cargo-handling technology. The port operates 10 piers on 3,200 acres and more than six million containers were delivered to the port in 2011 – a decrease of 3% from the previous year and 16% below its peak year of 7.3 million in 2007.
Image: The redeveloped Middle Harbour terminal will be fully automated and upon completion it will be capable of handling 3.1Mteu in cargo. Credit: Port of Long Beach.