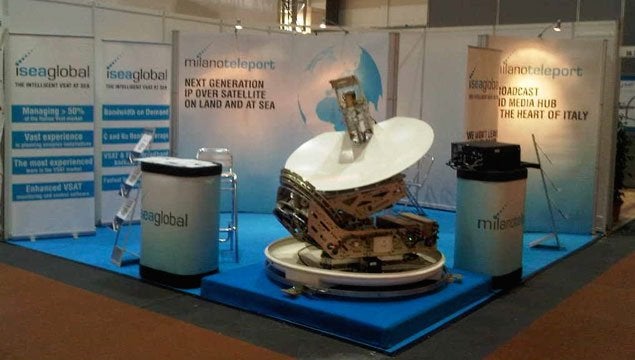 ORBIT Communication Systems, a subsidiary of Orbit Technologies and Italy-based Milano Teleport have secured a contract from an unnamed ship owner in Greece to install complete VSAT solution on its oil super-tankers.
Under the contract, both companies will install a complete VSAT solution, based on Orbit's OrBand C-Band VSAT system and Milano Teleport's C-Band satellite capacity and value added services.
Orbit president and CEO Avi Cohen said this substantial order is further confirmation of the quality and innovation that the company's OrBand solution brings to the field of maritime broadband communications
"We are proud that this premier tanker company has selected our joint solution with Milano Teleport for global maritime broadband services, following its in-depth validation of system performance under difficult maritime conditions," Cohen said.
In 2012 Orbit and Milano Teleport delivered the tanker company with a single C-Band system, satellite capacity and value added services for trial.
During the trial the C-Band VSAT solution met complex challenges of maritime communication, including stringent requirements regarding quality of service and data transfer rates, as well as global coverage.
The solution provided by both companies will support the Greek tanker company with various broadband applications, including centralised management and control from company headquarters, VoIP telephony and VPN and internet connectivity for the ship's crew.
Orbit has developed the OrBand C-Band VSAT solution, which is small in size and can be shipped as a single and fully assembled and tested unit in a standard 20-foot container. It is designed for quick and simple single-day installation, allowing it to be outfitted while ships are on routine port calls without waiting for the ship to dry dock.
The compact design of the system makes it suitable for smaller vessels which can't accommodate traditional C-Band solutions.
Milano Teleport managing director Nicola Mossino said with the increasing demand for true global broadband at sea, the company has invested in a wide range of satellite airtime services, as well as value added services and highly innovative remote diagnostic solutions for the maritime market.
"Our service is specifically tailored to meet the requirements of maritime customers, providing always-on data and voice communication. With OrBand, our solution guarantees constant quality of service under any weather conditions across the globe," Mossino said.
Orbit and Milano Teleport are now expecting further contracts from the company as the tanker operator is planning to equip its entire fleet of tankers with this VSAT solution during 2012 and 2013.
Image: C-Band VSAT solution is designed to be installed on ships in a single-day without requiring the vessel to dry dock. Photo: Milano Teleport.