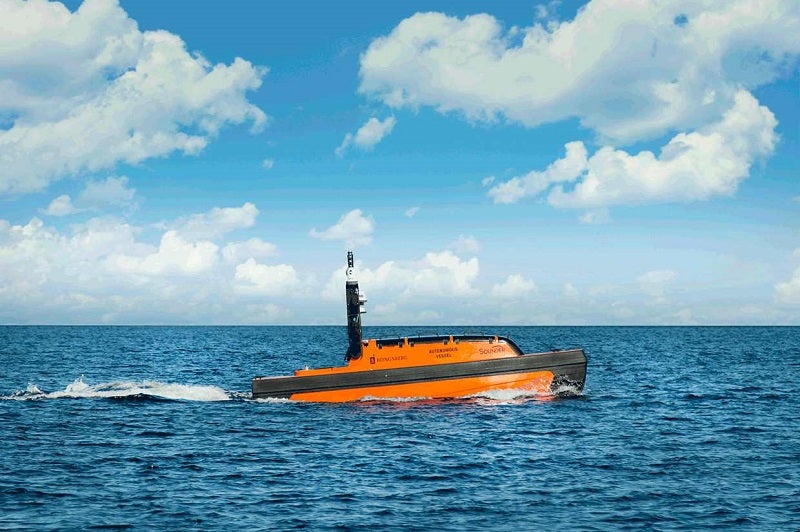 Norway-based Kongsberg Maritime has signed an agreement with the Institute of Marine Research (IMR) for the delivery of four autonomous vessels.
Scope of the order covers two Kongsberg Maritime Sounder USVs (unmanned surface vehicles) and two Kongsberg AUVs (autonomous underwater vehicles).
The institute will use the vessels for the management and monitoring of the marine ecosystem.
The Kongsberg AUVs will be supplied this year while the USVs are scheduled for delivery next year.
With a depth-rate of 1,500m, the AUVs will feature a powerful payload for environmental monitoring and seabed mapping.
All four vessels will be furnished with Kongsberg's new Blue Insight.
This Cloud-based ecosystem enables distant instrument operation, data visualisation, and smart management of meteorological and oceanographic data.
The Sounder USVs will maintain a scientific package for delivering optimal performance.
This multi-purpose data-gathering platform will be used for several hydroacoustic observation and surveying applications.
Similar to the current research vessels, IMR will equip the USVs with a full EK80 wideband system for ADCP functionality.
The Sounder USV, which can operate for up to 20 days at a speed of 4k, has been designed to allow a quick changeover of its sensor payload.
These vessels also have a well-balanced hull for generating accurate data from acoustic instruments.
With a compact 8m design, the Sounder USV eliminates the aerated water and improves the signal/noise-in-water ratio, which might otherwise impact the accuracy of the results.
IMR CEO Sissel Rogne said: "We are seeing a wide range of changes in our coastal and ocean ecosystems, and these changes happen fast. In response to this, we must streamline and increase our management efforts. To obtain this we need innovative and reliable partners, and the cooperation with Kongsberg Maritime is therefore vital to us. Their USVs and AUVs will initially work alongside our traditional research vessels in an 'armada strategy,' but will subsequently operate more independently as we expand our plans."
Kongsberg Maritime ocean science sales director Tonny Algrøy said: "We're very pleased to have secured this contract with the IMR. This delivery builds upon decades of collaborative work with the IMR to create innovative solutions for ocean ecosystem monitoring, and the addition of smart platforms plus a new E-infrastructure solution is a logical next step in this shared history."