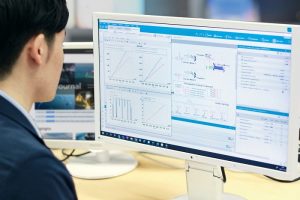 Nippon Yusen Kabushiki Kaisha (NYK) Line, along with partners Monohakobi Technology Institute (MTI), American Bureau of Shipping (ABS) and Winterthur Gas and Diesel (WinGD), has embarked on a battery-hybrid solution research project.
This project aims to minimise greenhouse gas (GHG) emissions from ships by using a battery-hybrid system to improve vessel design and aid ship propulsion.
The partners will merge the modelling technologies of each firm to develop an integrated simulation model for vessels.
Under the project, WinGD's modelling technology for engine plants, including batteries, will be joined with NYK and MTI's modelling technologies for actual sea performance.
Meanwhile, ABS will offer advice on the assessment of the effect of emission reduction.
Later on, NYK, MTI and WinGD will develop a digital battery-hybrid vessel design while ABS will carry out navigation simulations based on a scenario that replicates meteorological settings in actual seas.
For optimising the ship design, NYK, MTI and WinGD will enhance the simulation model by incorporating the issues clarified within the simulations.
In a statement, NYK said: "This joint research is an epoch-making initiative in the maritime industry that has the ship users, NYK and MTI, collaborating with the marine equipment manufacturer WinGD and with the advice of the marine classification society ABS develop a digital model of a ship, perform simulations, and build a ship.
"The ship model will be verified in accordance with a modelling and simulation framework to be developed by ABS."
As a mechanism, the battery-hybrid solution lowers the load placed by the shaft generator on the main engine.
In the coming years, the partners, in collaboration with shipyards, will enhance the simulation's accuracy.
This will be done by using the simulation results gained through the joint research project.
Last month, NYK Line signed an agreement with Mitsubishi Shipbuilding to develop a large-scale liquefied CO₂ carrier.