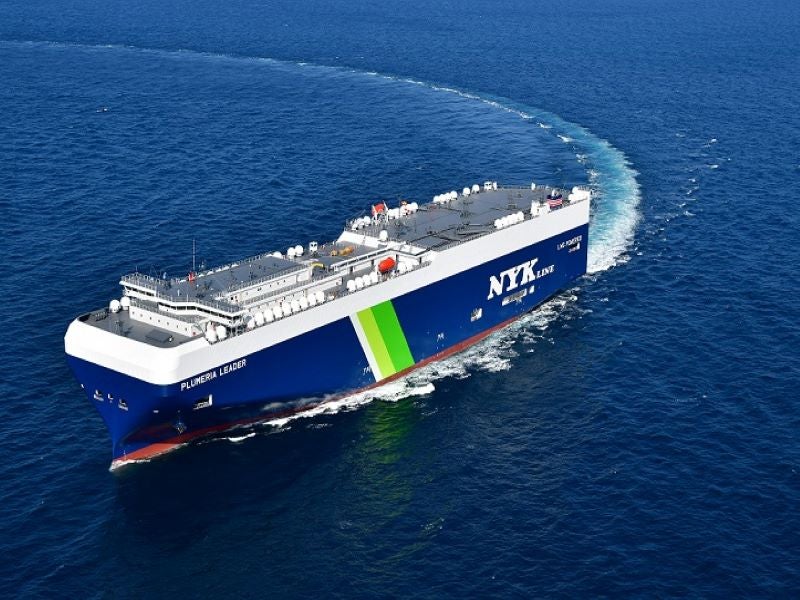 Japanese shipping firm Nippon Yusen Kabushiki Kaisha (NYK) Line has taken delivery of a liquefied natural gas (LNG)-powered pure car and truck carrier (PCTC) called Plumeria Leader.
This ship was constructed at Japan's Shin Kurushima Dockyard of Shin Kurushima Toyohashi Shipbuilding.
The new LNG-powered vessel has the ability to ship around 7,000 units (standard vehicle equivalent) during each voyage.
Initially, the vessel will start transporting vehicles manufactured by Toyota Motor.
It is the second LNG-powered vessel built at the same shipyard, following the Sakura Leader vessel.
Plumeria Leader is said to be 40% more energy efficient compared to ships using conventional heavy oil-fired engines.
The vessel is also anticipated to decrease sulfur oxide (SOx) emissions by around 99%, as well as nitrogen oxides (NOx) by about 86%, compared to conventional ships.
For its oceangoing businesses, NYK Group aims to achieve net-zero emissions of greenhouse gasses (GHG) by 2050.
The company intends to take delivery of 20 new LNG-fueled car carriers by 2028.
Additionally, NYK is planning to use LNG fuel as one of the bridge solutions until future zero-emission ships are being delivered, said the company.
Zero-emission vessels will use low-emission marine fuels, including hydrogen and ammonia.
Recently, NYK Line, MTI and Japan Maritime Science gained approval from ClassNK and Bureau Veritas for the Action Planning and Execution System for Full Autonomous (APExS-auto) framework.