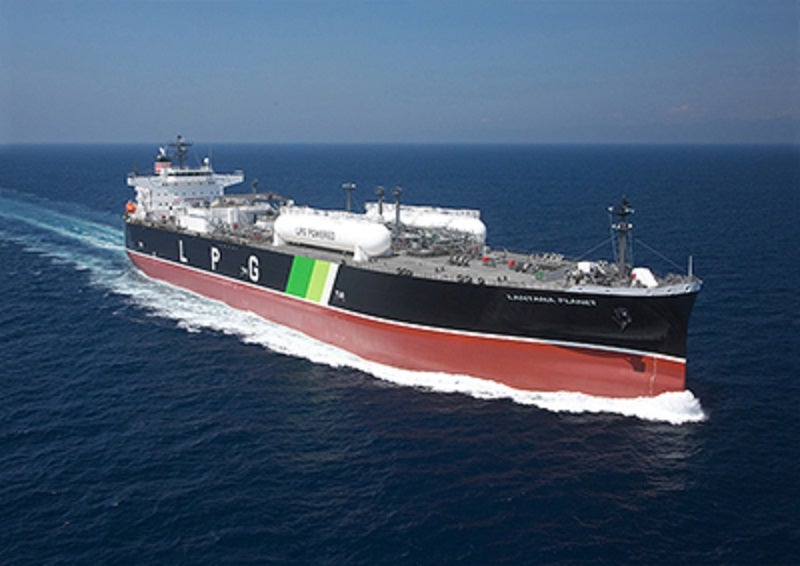 Japanese shipbuilder Kawasaki Heavy Industries (KHI) has delivered the dual-fuel liquefied petroleum gas (LPG) carrier Lantana Planet to Nippon Yusen Kabushiki Kaisha (NYK). 
The vessel has a length of 229.90m with a moulded breadth of 37.20m, moulded draft of 11.60m and moulded depth of 21.90m.
It is powered using LPG as well as low-sulfur fuel oil. The use of LPG is said to significantly lower emission volumes of sulfur oxides (SOx), CO₂ and other pollutants when compared with marine fuel oil.
This helps the ship comply with SOx emission standards and EEDI Phase 3 regulations, noted Kawasaki.
The vessel has a gross tonnage of 49,943t, deadweight of 55,153t and 84,169m³ of cargo tank capacity.
It is the firm's fourth 84,000m³ capacity LPG vessel with a dual-fuel main engine.
The main engine and generator incorporate a selective catalytic reduction (SCR) system, which is an exhaust gas purification system to lower NOx.
This is said to comply with the restrictions on NOx Tier III controls emissions enforced by the International Maritime Organisation (IMO).
Said to be the 69th LPG ship constructed by Kawasaki, the carrier features the Kawasaki rudder bulb system with fins (RBS-F) and the semi-duct system with contra fins (SDS-F).
Kawasaki claims that this helps to cut down fuel usage.
The shipbuilder said in a statement: "Kawasaki plans to develop and build more LPG-fueled LPG carriers, LPG/NH₃ carrier, and other commercial vessels that meet environmental standards, as well as to develop and offer other eco-friendly marine technologies, to contribute to the establishment of a low-carbon/decarbonised society.
"These products include vessels for transporting liquefied hydrogen, considered to be the next-generation energy source."