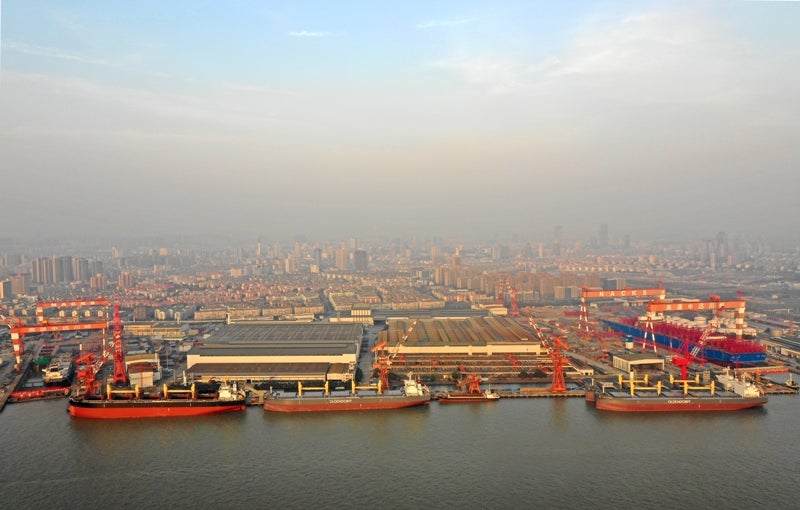 Oldendorff Carriers has received five new eco-ships, four of which have been delivered on the same day.
The ships are expected to enable Oldendorff to upgrade its fleet and help reduce environmental impact.
The fuel-efficient vessels are designed to reduce fuel consumption while transporting cargo. They will eventually reduce the carbon footprint.
Three of the new ships, including M/V Jan Oldendorff, M/V John Oldendorff and M/V Julius Oldendorff, were delivered by yard Nantong Cosco KHI Ship Engineering in China.
With 61,400TDW capabilities each, the three Ultramax ships feature 13.03m of draft, 199.90m of length overall (LOA), and a beam of 32.24m. Vessels are equipped with four 30t SWL Mitsubishi cranes.
Powered by a fuel-efficient MAN-B&W 6S50ME-B9.2 main engine with a 10,000kw capacity, the ships feature fuel-saving devices such as a semi-duct system with contra-fins and rudder bulb system with fins.
Oldendorff has already placed the John Oldendorff and Julius Oldendorff vessels on long-term time charters with clients.
Jan Oldendorff will be deployed to serve contracts of Affreightment and spot market cargoes.
"The fuel-efficient vessels are designed to reduce fuel consumption while transporting cargo."
Oldendorff received the new 'Christiane Oldendorff' vessel from Samjin Shipyard in Weihai, China.
Christiane Oldendorff is a Handysize vessel with a 35,762TDW capacity. With a draft of 10.21m, the vessels are equipped with four 35t SWL Mitsubishi Masada-license cranes with 12m³ grabs.
The vessel has an LOA of 180m, a beam of 30m and a tank top. It has already been delivered for long-term employment with an unnamed international trading company.
Oldendorff's new 'Kai Oldendorff' is a Kamsarmax vessel and has been delivered from Hantong shipyard in Hantong, China.
The 81,242tdw vessel features 14.51m draft, 229m of LOA, and a 32.26m beam.
Kai Oldendorff is powered by a fuel-efficient Hyundai-MAN B&W 6S60ME-C8.5 main engine and Yanmar auxiliaries. The vessel is expected to be retrofitted with an exhaust gas cleaning system (Scrubber) next year to abide by IMO 2020 regulations.