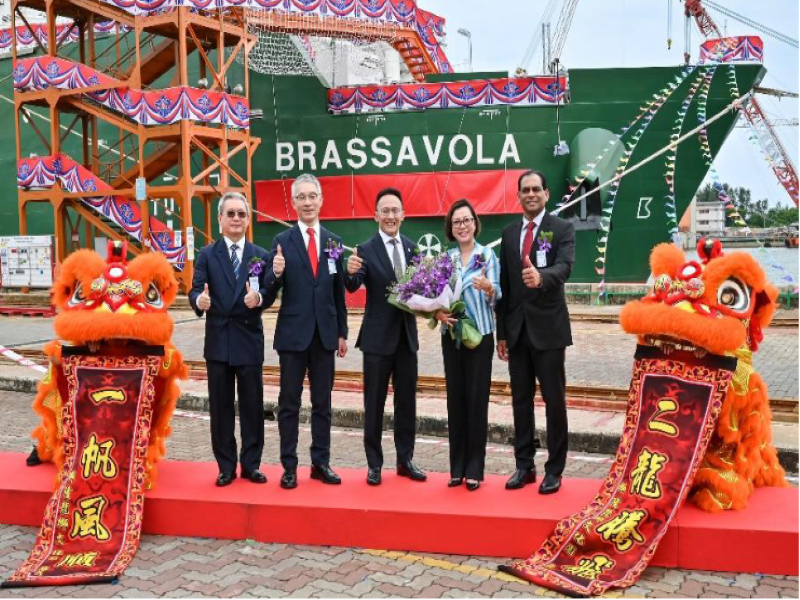 Singapore-based Pavilion Energy and Japanese shipping firm Mitsui OSK Lines (MOL) will launch a new liquefied natural gas (LNG) bunker vessel in the first quarter of 2023.
The Singapore-flagged vessel has been named Brassavola at Sembcorp Marine's Tuas Boulevard Yard.
With a capacity of 12,000m³, Brassavola will feature a length of 116.5m and width of 22m. It is claimed to be the largest vessel of its kind to be constructed in Singapore.
It is also said to be the first newbuild LNG bunker vessel for Pavilion Energy, as well as Sembcorp Marine's first LNG bunker vessel construction project.
The vessel will have two GTT Mark III Flex membrane tanks, which offer lower internal pressure, temperature and boil-off rate.
With a lower weight and smaller footprint, the twin membrane tanks enable the vessel to carry more cargo and consume less fuel during transportation.
Brassavola will have dual-fuel engines that can operate on LNG or marine diesel oil, thereby supporting cleaner propulsion.
It will have a loading and bunkering rate of up to 2,000m³ an hour, mass flow metering and online gas chromatograph systems.
The vessel will also feature on-board reliquefaction technology, which facilitates efficient boil-off gas management to cut down wastage and carbon emissions.
Owned by MOL's wholly-owned subsidiary Indah Singa Maritime, Brassavola will be chartered by Pavilion Energy's fully-owned subsidiary Pavilion LNG Bunker.
Pavilion Energy will use the new vessel for LNG bunker in the Port of Singapore.
As part of a long-term agreement with Pavilion Energy, TotalEnergies Marine Fuels will also use the vessel to supply LNG bunker to its customers.
MOL senior managing executive officer Kenta Matsuzaka said: "I would like to express my sincere gratitude to all the people involved in this project. Brassavola is the very first LNG Bunkering Vessel constructed in Singapore."