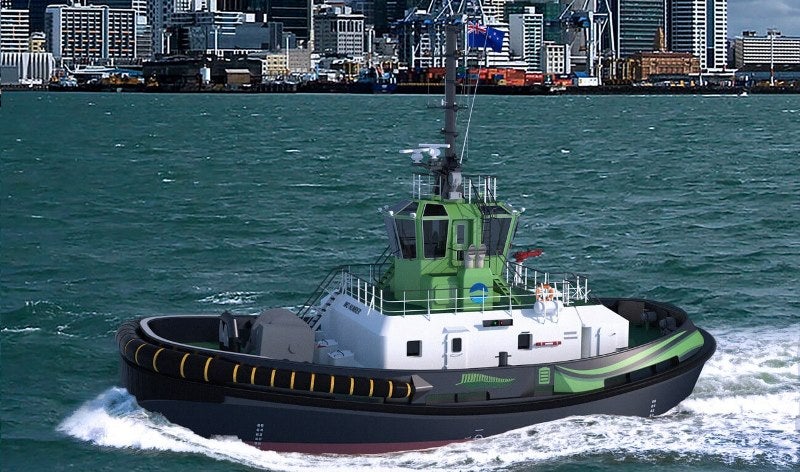 New Zealand's Ports of Auckland has signed a contract with Dutch company Damen Shipyards to purchase a fully electric ship-handling tug.
Unveiled in 2018, the new Damen RSD-E Tug 2513 tug has 70 tonnes bollard pull. It is fuel-efficient and International Maritime Organization (IMO) Tier III ready.
CEO of Ports of Auckland, Tony Gibson said: "In 2016 we set ourselves the goal of being zero-emission by 2040.
"We set this goal because we recognise that urgent action is needed on climate change, and we wanted to be part of the solution. However, setting that goal created a tough challenge. We have a lot of heavy equipment, like tugs, and in 2016 there were no zero-emission options."
Following a request from Ports of Auckland, Damen conducted research to develop the tug taking inputs from Auckland's existing ASD Tug 2411.
Damen design and proposal engineer Tugs Marc Baken said: "We looked into the request and we saw that it was technically possible. The next step was to consider the feasibility of full electrical operation from a business perspective."
Featuring power systems with high levels of redundancy, the tug is equipped with two 1,000kW generator sets. This will enable the tug to operate at 40 tonnes bollard pull in case of an electrical system failure.
The 1.5MW charger features four cables on the vessel connected to the station, which fully charges RSD-E Tug 2513 within two hours.
Auckland Mayor Phil Goff said: "Commissioning the world's first fully-electric large tug represents a strong commitment by Auckland and its port to reducing carbon emissions and achieving our carbon zero target.
"It's great for the environment, reducing pollution in the city centre and cutting back carbon emissions.
"The life of the tug is around 25 years. By going electric now, we save 25 years of diesel pollution and a net reduction in costs of around $2.5m because it is so much cheaper to operate," said Goff.