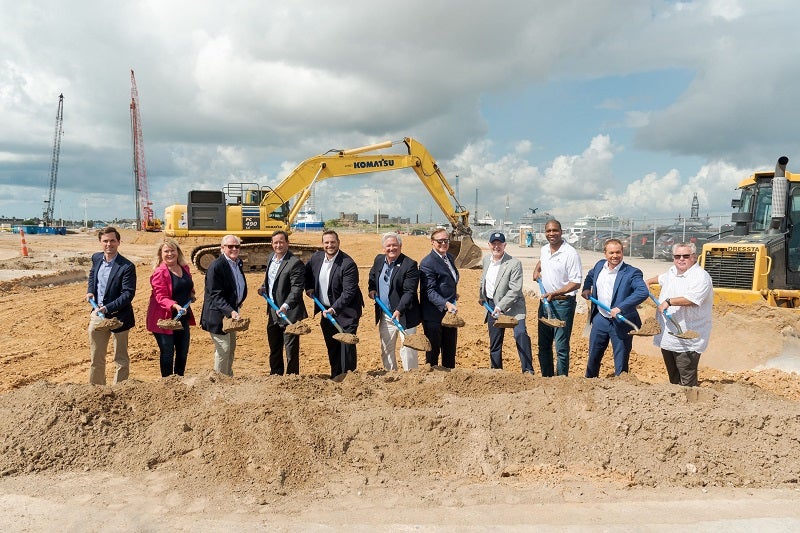 The Port of Galveston in Texas, the US has commenced the construction of Royal Caribbean International's new $125m Oasis-class cruise terminal.
To mark the occasion, a ground-breaking ceremony was held at the port.
In December 2019, the Port of Galveston and Royal Caribbean signed a long-term contract for the new terminal.
Under the public-private partnership, Royal Caribbean will build the 161,300ft² terminal and then lease it from the port for the initial period of 20 years with four ten-year options.
The new terminal will extend up to ten acres at Pier 10 in the easternmost region of the port on Galveston Island.
As agreed, the port will build and run a 1,800-space cruise parking lot at the terminal.
The new cruise terminal will be managed by Ceres Terminals Holdings.
Ceres Terminals will also provide services such as stevedoring, passenger luggage services, and ship provisioning.
For an improved guest arrival experience, the facility will include mobile check-in and facial recognition solutions.
The terminal will be developed in line with the global Leadership in Energy and Environmental (LEED) health, efficiency, and sustainability standards.
Galveston Wharves port director and CEO Rodger Rees said: "This new cruise terminal is a game-changer. This much-anticipated project will bring 800 new jobs, $1.4bn in local business services revenue, $5.6m in state and local taxes, and incredible business development opportunities."
The new facility, which will be the port's third cruise terminal, is expected to be completed late next year and will homeport Royal Caribbean's Oasis Class ship, Allure of the Seas.
At present, the port accommodates Royal Caribbean's Independence and Liberty of the Seas, which is said to be the largest cruise ship homeported in Galveston.
Earlier this month, US-based gas company Stabilis Solutions signed a memorandum of understanding with the Galveston Wharves at the Port of Galveston in Texas.
The companies agreed to support the use of LNG as a marine fuel at the port and deliver LNG fuelling solutions to marine ships calling on the port.