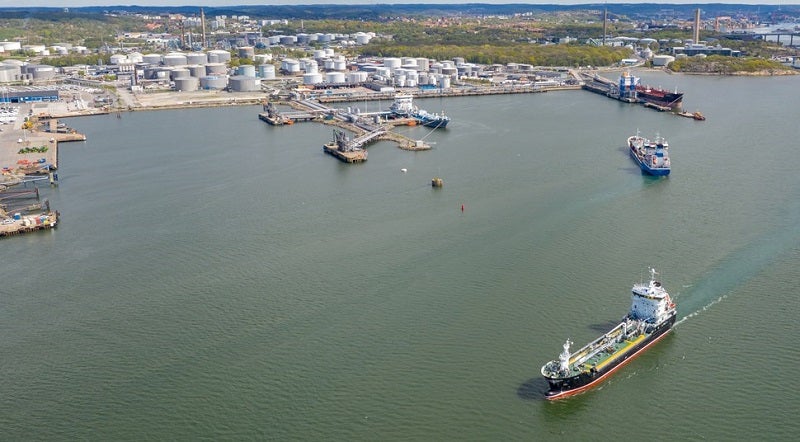 Port of Gothenburg in Sweden is expanding its shoreside power network to the Energy Port and will connect tankers to shore power from 2023.
The move is expected to lower CO₂ emissions from vessels by 1,800t annually.
The port aims to cut down its carbon emissions by 70% by 2030.
The port has secured nearly $1.26m (Skr10.7m) for the execution of the project.
The project has been partly funded by Klimatklivet, an investment support initiative to minimise carbon emissions and other harmful gases.
At present, the shoreside power is available at the Stena Line berths and two of the berths at the Gothenburg Roro Terminal.
Port of Gothenburg claims to be among the first ports globally to provide shoreside power to ships.
In a statement, Port of Gothenburg said: "An effective means of reducing emissions from vessels at berth is shoreside power. Auxiliary engines currently powered by marine gas oil can be connected to a shoreside power supply, avoiding combustion emissions whilst the vessel is loading or discharging."
The port has teamed up with shipping firms to develop an interface that is 'globally unique' for the tanker division.
Some of the shipping companies that are planning to be involved in the project are Terntank, Donsötank, Ektank, Furetank, Veritas Tankers and Tarbit Shipping.
Gothenburg Port Authority production development engineer Jörgen Wrennfors said: "We are about to take the next crucial step by connecting tankers to shoreside power points. Doing so in an explosive environment is more complicated, and the Port of Gothenburg looks as if it will become the first port in the world to offer this option.
"The hope is that other ports will follow suit, creating a basis for a shoreside power standard in explosive environments."
In March, Port of Gothenburg announced plans for a new short-sea terminal service to facilitate intra-European container transportation.