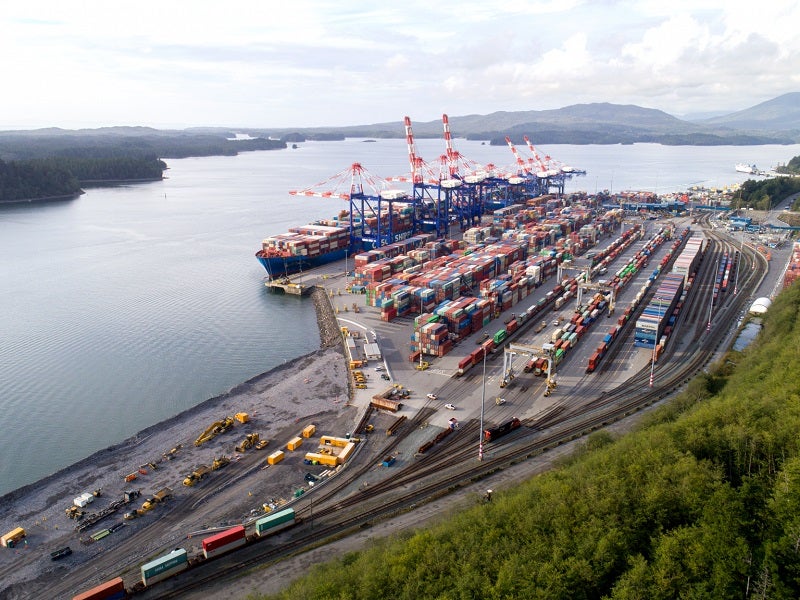 Canada's Port of Prince Rupert and United Arab Emirates (UAE)-based DP World are making progress with several infrastructure projects aimed at improving Canada's west coast.
The first stage of the Phase 2B expansion of Fairview Container Terminal is now halfway through completion and will be concluded in July.
Under the project, the terminal's capacity will be extended to 1.6 million twenty-foot equivalent units (TEUs) this summer and 1.8 TEUs in 2024.
The extension aims to address the growth in container traffic that Prince Rupert has seen over the past five years.
This project is expected to provide economic benefits to Prince Rupert, Indigenous communities and the surrounding area.
Eventually, the Phase 2B expansion project will add 300 extra full-time equivalent (FTE) positions at DP World's Fairview Container Terminal.
DP World Canada CEO and general manager Maksim Mihic said: "The DP World Fairview Terminal already offers the fastest connection from Asia to North America, and this expansion of the Prince Rupert Gateway will provide the infrastructure necessary to meet increasing trade growth forecasts.
"The Fairview Phase 2B expansion sets Prince Rupert firmly on the path to becoming a leading strategic Canadian logistics hub, custom-built for high-volume intermodal traffic."
The new Fairview-Ridley Connector Corridor is also progressing, with completion projected to take place in the second quarter of the year.
This new corridor will reroute container trucks from local transload and customs centres to Fairview Container Terminal directly.
In June 2018, DP World and Port of Prince Rupert decided to mutually develop the upcoming stage of the DP World Prince Rupert Fairview Container Terminal expansion.