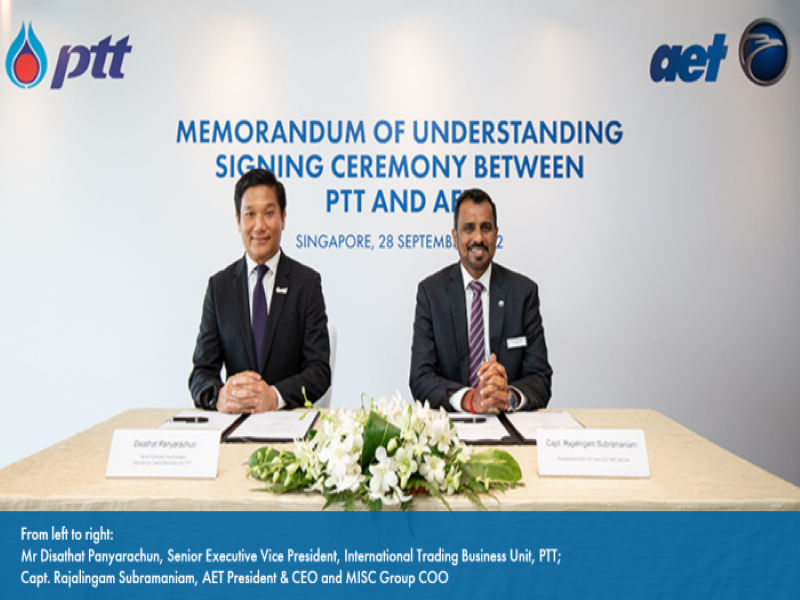 Thailand-based oil and gas company PTT has entered a memorandum of understanding (MoU) with AET Tanker Holdings for two new zero-emission Aframax vessels.
The MoU will see the construction of two zero-emission Aframaxes that will operate on green ammonia.
AET will choose a suitable shipyard for the construction of new vessels.
Under long-term charters, PTT is anticipated to receive two zero-emission dual-fuel tankers in the fourth quarter of 2025 and the first quarter of 2026, respectively.
This MoU is part of both entities' commitment to lower greenhouse gas (GHG) emissions from international shipping.
PTT international trading business unit SEVP Disathat Panyarachun said: "This latest partnership underscores PTT's vision of Powering Life with Future Energy and Beyond and the great importance we place on the development toward low carbon society and investment in clean energy as well as our long-term strategy to achieve carbon neutrality and net zero Greenhouse Gas (GHG) emissions."
AET president and CEO and MISC Group COO Capt Rajalingam Subramaniam said: "With these latest net-zero vessels, AET is contributing further to the development of sustainability shipping to meeting the IMO's 2030 Greenhouse Gas (GHG) intensity reduction agenda and our commitment across the MISC Group to net-zero GHG emissions by 2050."
In January 2021, AET took the delivery of a new Suezmax second-generation dynamic positioning (DP2) shuttle tanker, dubbed Eagle Pilar, from Samsung Heavy Industries (Shi).