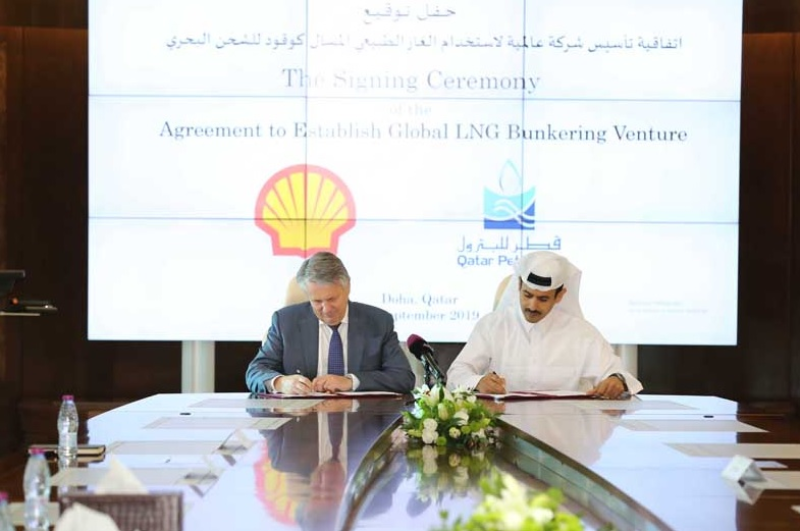 Qatar Petroleum (QP) and Royal Dutch Shell Shell have signed an agreement to form a joint venture (JV) to provide liquefied natural gas (LNG) marine bunkering services across the globe.
The latest move follows QP Wave LNG Solutions' and Shell Gas & Power Developments' framework agreement to develop LNG bunkering, signed in June 2017.
The equal-stake JV will mainly focus on establishing LNG bunkering infrastructure, including storage and bunker vessels at strategic international locations.
The new entity will support the purchase and sale of LNG as a marine fuel to customers around the world.
QP president and CEO Saad Sherida Al-Kaabi said: "We are pleased to establish this new venture with Shell, our long-term partner and industry pioneer, by combining our joint efforts and shared expertise to develop this important initiative.
"We see LNG bunkering as a promising solution for the shipping industry, in light of a continuously evolving regulatory environment, and as an important opportunity to enhance LNG's position as a clean energy source, particularly in maritime transportation."
Al-Kaabi further said that the demand for LNG bunkering is likely to reach 35 million tonnes a year by 2035.
LNG bunkering will enable the shipping industry to meet the stricter environmental regulations without compromising economic objectives.
Shipowners and operators are increasingly using  LNG to meet strict regulations, related to sulfur and nitrogen oxide emissions.
In October 2016, the International Maritime Organization (IMO) revealed that a global 0.5% sulfur cap will come into force at the beginning of 2020.
Royal Dutch Shell CEO Ben van Beurden said: "The shipping industry is starting to make the very necessary strides to reduce emissions from vessels. LNG is already playing an important role as the cleanest and an affordable alternative to traditional marine fuels available today.
"That is why we look forward to building on our strong long-term partnership with QP, expanding the LNG marine fuel network and creating a safe supply chain."