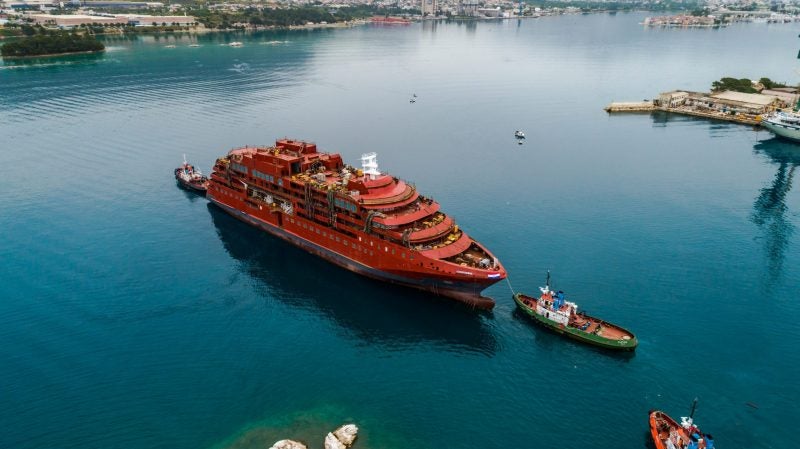 Quark Expeditions has launched a new technologically advanced polar vessel Ultramarine that was constructed by Croatia-based shipyard Brodosplit.
During the launch ceremony, the Brodosplit's shipbuilding team was praised.
The ceremony was attended by Brodosplit-owner DIV Group CEO Tomislav Debeljak, shipyard godmother Andrea Mutak, dignitaries and Brodosplit employees. During the ceremony, the ship entered the water for the first time.
Quark Expeditions president Andrew White said: "Today's launch ceremony is a time-honoured shipyard tradition. That very moment when the ship first meets water is a major milestone for any vessel.
"The sound of Ultramarine's hull entering the water from slipway No 2 into Supaval Bay signified we are one step closer to exploring the polar regions on this game-changing ship. But, of course, it is not just any ship that we are celebrating today but a ship built specifically for polar exploration. Ultramarine will be an unrivalled operational base for exploring the polar regions in ways never thought possible."
The Ultramarine ship can accommodate 199 passengers and features two twin-engine helicopters, 20 quick-launching Zodiacs and one of the most robust portfolios of off-ship adventure options such as heli-skiing, alpine kayaking and heli-hiking.
The ship also offers improved onboard comfort and amenities such as a sauna with floor-to-ceiling windows and spacious spa-inspired suites.
The ship also features advanced sustainability systems along with unique interior design.
In January last year, Brodosplit started the construction of a new ship for Quark Expeditions in a steel-cutting ceremony held at the shipyard.
In June 2018, Brodosplit secured a contract to build a polar expedition cruise ship.