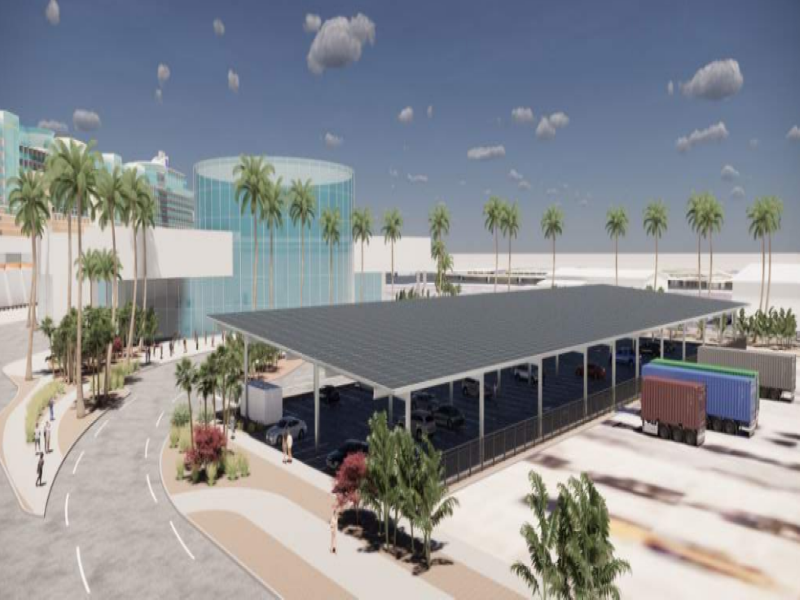 Cruise company Royal Caribbean Group is set to open a $125m zero-energy cruise terminal at the Port of Galveston in Texas, US, on 9 November 2022.
Claimed to be the world's first cruise terminal to produce 100% of its required energy via on-site solar panels, the new Galveston terminal will be used by the firm's Royal Caribbean International brand.
The new 161,334ft² cruise terminal, which uses 30,000ft² on-site photovoltaic solar panels, is claimed to be the first in Texas to receive LEED Gold certification.
To cut down transportation-related carbon emissions, the terminal will provide bicycle facilities and electric charging stations for guests and staff.
Royal Caribbean International's T10 terminal will deliver infrastructure for the future deployment of eight electric vehicles (EV) charging stations within its parking lot as the Galveston port increases its EV charging stations.
The Galveston cruise terminal will help significantly extend the company's presence in the port, in addition to growing the cruise line's annual accommodation capacity to up to 630,000 guests.
This new terminal will first receive Royal Caribbean International's Oasis Class ship called Allure of the Seas.
Royal Caribbean Group president and CEO Jason Liberty said: "We are focused on innovating across all aspects of our company, especially in our work to advance sustainability in the communities we visit.
"We deeply value both the oceans we sail and the communities we visit and operate in, and the modern design and development features at our terminal in Galveston will work in service of both."
In July this year, Royal Caribbean Group signed a $275m deal to acquire the ultra-luxury expedition cruise ship Endeavor.