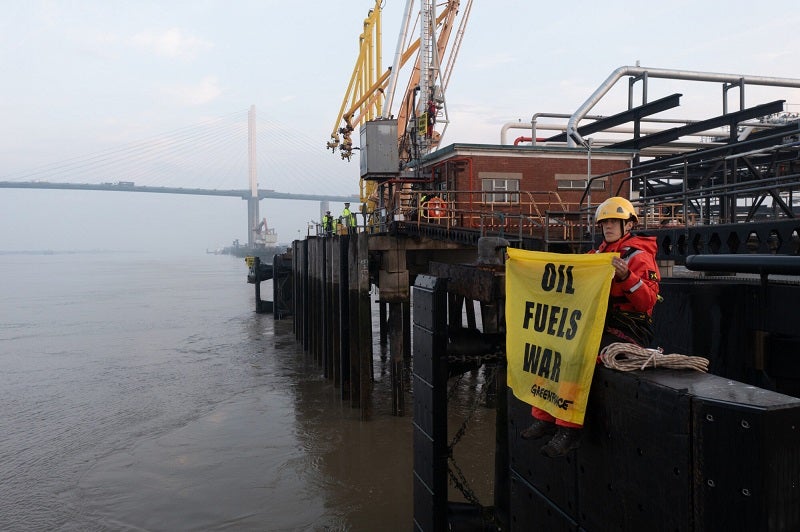 Understand the impact of the Ukraine conflict from a cross-sector perspective with the GlobalData Executive Briefing: Ukraine Conflict
---
Activists of the global campaigning network Greenpeace have prevented a Greek-flagged tanker with Russian diesel from entering Navigator Terminals' Thames site in Essex, UK.
The environmental group said that the vessel, named Andromeda, was carrying 33,000 tonnes of Russian fuel valued at around £30m.
Andromeda was reportedly carrying the shipment, delivered by the LLC KINEF refinery, from the Russian port of Primorsk.
Protestors blocked the 183m-long vessel by evading security and getting on board the ship, where they unfurled banners that read 'oil fuels war'.
The protests have blocked the ship from docking and discharging its cargo, forcing it to U-turn in the Thames.
Fifteen activists have been arrested in the matter so far, with a government spokesperson saying that there is 'absolutely no excuse for Greenpeace's disruptive actions, which are wholly unacceptable'.
According to the group, the move is in protest against the UK Government allowing fossil fuel funds to finance the Ukraine conflict.
In response to Russia's military offensive against Ukraine, various Western nations have barred the entry of Russian vessels to its ports.
This includes the UK, which passed a law to block ships with Russian ties from entering its ports.
Britain has also committed to phasing out Russian oil imports by 2023.
However, research by Greenpeace released in April revealed that the country has imported around £220m, or two million barrels, of Russian oil since the start of the war. 
Greenpeace UK oil and gas campaigner Georgia Whitaker said: "The UK's attachment to fossil fuels has backfired in the worst way possible – we're funding a war, our energy bills and fuel costs are sky-high, and we're driving the climate crisis. It has to stop.
"Putin invaded Ukraine nearly three months ago, and yet fossil fuel money from the UK is still funding his war chest. Ministers have kicked a ban on Russian oil imports to the end of the year despite strong public support for it."
Several vessels with Russian links have been impounded by Western nations since the invasion of Ukraine.
Greece detained a Russian-flagged oil tanker called Pegas last month, and the UK impounded a £38m Russian-owned superyacht named Phi in March.