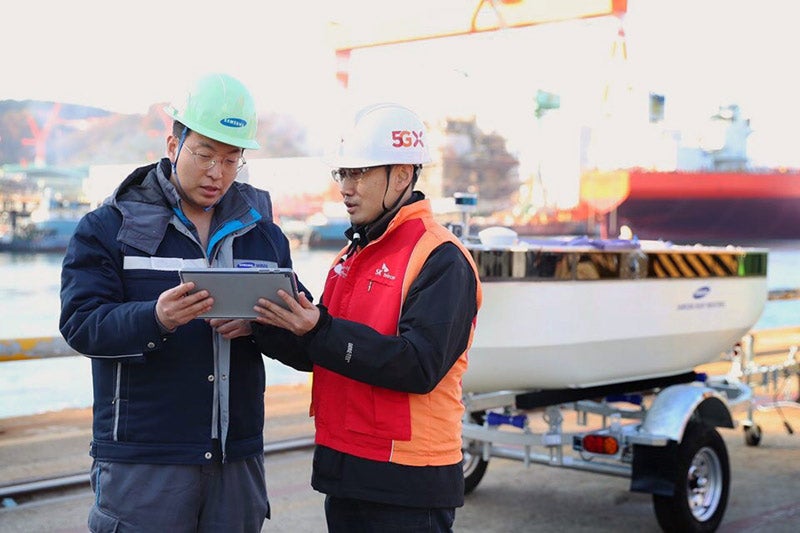 Samsung Heavy Industries (SHI) has partnered with SK Telecom (SKT) to develop a 5G-based remote control navigation test platform.
Leveraging the power of the Internet of Things (IoT), 5G and artificial intelligence (AI) technologies, the navigation platform will guide vessels to autonomously sail towards their fixed destinations.
The South Korean shipbuilder said that the new navigation platform will improve ship safety and productivity.
A successful test of the navigation platform has already been carried out using a 3.3m-long test ship, which was independently constructed by SHI.
The ship equipped with a cloud-based IoT platform and T Live Caster, 5G-based LiDAR, and real-time video monitoring technology offered by SK Telecom travelled to its destination in the sea near SHI's Geoje Shipyard.
The ship was controlled from a newly established Remote Control Center in Daejeon, which is located approximately 250km from the shipyard.
During the course of travel, the ship successfully recognised and negotiated maritime obstacles and safely sailed to the destination.
The vessel demonstrated that the 5G-based autonomous and remote control navigation test platform can considerably increase the safety of ships, specifically when cruising near shore in narrow water.
Testing focused on verifying the efficiency of remote control ship operating capability.
SK Telecom B2B Business Office head Choi Il-gyu said: "Today's successful test marks a meaningful step towards commercialisation of technologies for autonomous navigation of ships powered by 5G.
"SK Telecom will continue to drive innovations in the manufacturing sector with the world's best 5G network and technologies."
SHI and SK Telecom have signed a memorandum of understanding (MoU) to set up 5G-based Smart Yard. Using real-time detection and control of all equipment and facilities within the shipyard, the solution will offer a safer and more productive shipbuilding environment.
SHI Ship and Offshore Research Institute vice-president Shim, Yong-Lae said: "We have now secured an optimal research environment to make a leap in the area of autonomous navigation ship technologies by combining Samsung Heavy Industries' autonomous and remote navigation system and SK Telecom's 5G communication technologies."
Last month, industry body Maritime UK published the third version of its Code of Practice, which includes updated guidelines on the operation, evaluation and deployment planning of maritime autonomous surface ships (MASS).