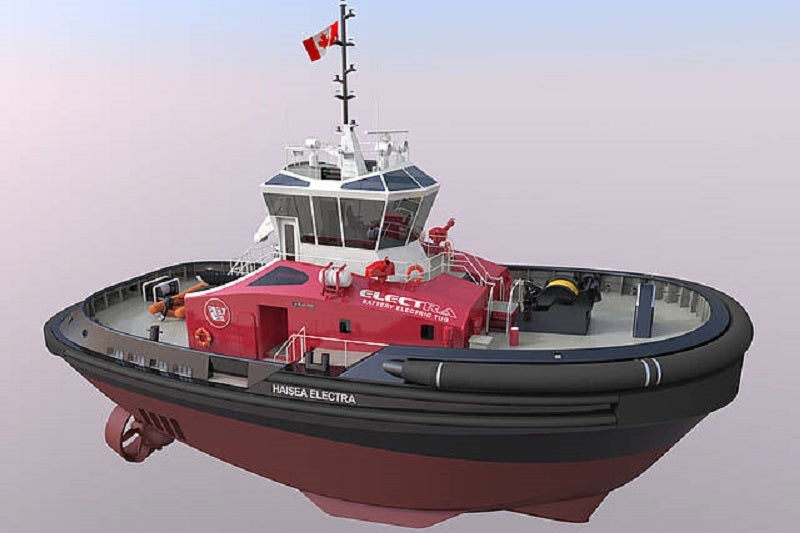 Germany-based propulsion manufacturer Schottel has won a contract to supply main propulsion units for five tugs, with 'significantly lower' greenhouse gas (GHG) emissions.
The tugs have been commissioned by Canada's marine transportation firm HaiSea Marine, a partnership between the Haisla Nation and Seaspan ULC.
Under the agreement, Schottel will deliver ten rudder propellers and two transverse thrusters to Turkish Sanmar Shipyards.
These will be deployed on three battery-powered harbour tugs and two liquefied natural gas (LNG)-fuelled escort tugs, which will consist of three ElectRA 2800 electric harbour tugs and two RAstar 4000-DF dual-fuel (LNG and diesel) escort tugs.
The tugs have been developed by architectural firm Robert Allan.
The LNG tugs are being constructed at the Sanmar shipyard in Altinova, while the electric tugs are being built at the Sanmar shipyard in Tuzla.
In a statement, Schottel said: "Each of the two dual-fuel escort tugs is equipped with two SCHOTTEL rudder propellers type SRP 610 CP, with an input power of 3,000kW and a propeller diameter of 3.2m.
"To further improve manoeuvrability, a SCHOTTEL TransverseThruster type STT 170 (250 kW) will be installed in every ship."
With a length of 40m and bollard pull of around 100t, the tugs will feature an exhaust after-treatment system as per the requirements of the International Maritime Organisation (IMO) Tier III emissions standard.
Schottel said: "Each of the three battery-operated electric tugs is powered by two SCHOTTEL CombiDrive Type SCD 460 (2,100kW each), with four-bladed propellers with a diameter of 2.6m. With this drive configuration, you can achieve a bollard pull of approximately 70t."
The 28m ElectRA 2800 port tugs are said to be the first battery-powered electric tugs in their class.
The tugs will provide towing services and support for LNG tankers docking at the new LNG export station in British Columbia's Kitimat.
Between dockings at Kitimat, they will be able to recharge at their berths with dedicated shore charging centres.
According to the company, the new tugs will account for considerably less GHG emissions (54% and 24%, respectively) compared to diesel-fuelled alternatives.
All five tugs are expected to commence operations in 2023.
In February, Schottel secured a contract to supply main propulsion units to Vancouver-based company Western Pacific Maritime for a car ferry.