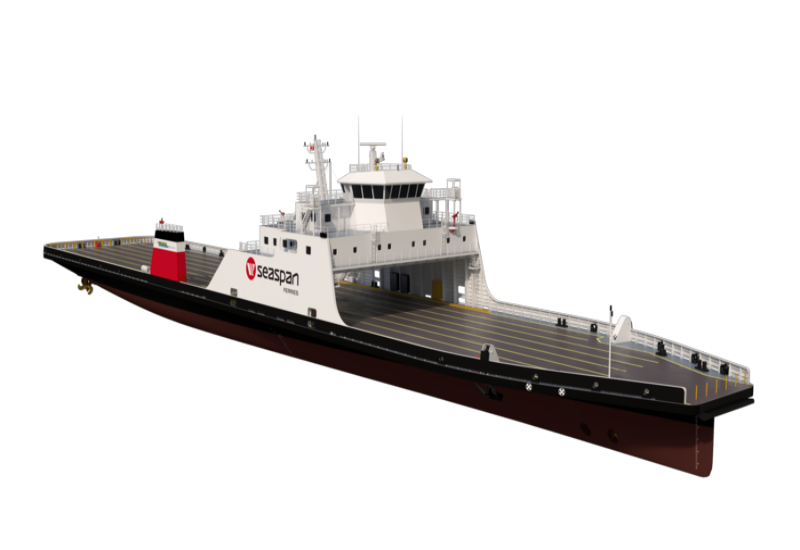 Schottel has won a contract from Seaspan Ferries to supply propulsion equipment for two hybrid roll-on/roll-off (RoRo) vessels.
As part of the deal, the German propulsion system supplier will provide two Combi Drives and two Transverse Thrusters for the LNG-battery hybrid RoRos, which will be constructed by Damen Shipyards Mangalia in Romania.
With the Combi Drive, the electric motor is integrated vertically into the rudder-propeller, boosting the efficiency of SRP and STP propulsion units.
In addition, two 550kW STT 1 FP bow thrusters will ensure accurate and high manoeuvrability. These can be mounted and dismounted while the vessel is afloat.
Seaspan Ferries fleet engineering and vessel development director Harly Penner said: "Thanks to the positive experiences we've had with Schottel thrusters in our first two LNG ferries, we once again opted for the German manufacturer.
"Their efficient and sustainable propulsion solutions have helped us further expand our service offering and reduce emissions at the same time."
Powered by two natural gas-fuelled engines with 209m³ storage on-board, plus 2MWh batteries, the ferries are expected to become operational in 2021.
Both new ferries will have a capacity of 1,034 lane meters each and will service the commercial route from Vancouver Island to the lower mainland.
The 149m-long and 26m-wide ferries will be able to carry a range of cargo, but will mainly be used for hauling semi-trailers and transporting automobiles.
The ships will join Seaspan Swift and Seaspan Reliant, the Canadian ferry operator's first two hybrid vessels that were commissioned just over two years ago.
Seaspan Ferries currently runs a fleet of seven ferries out of four terminals in British Columbia, Canada.