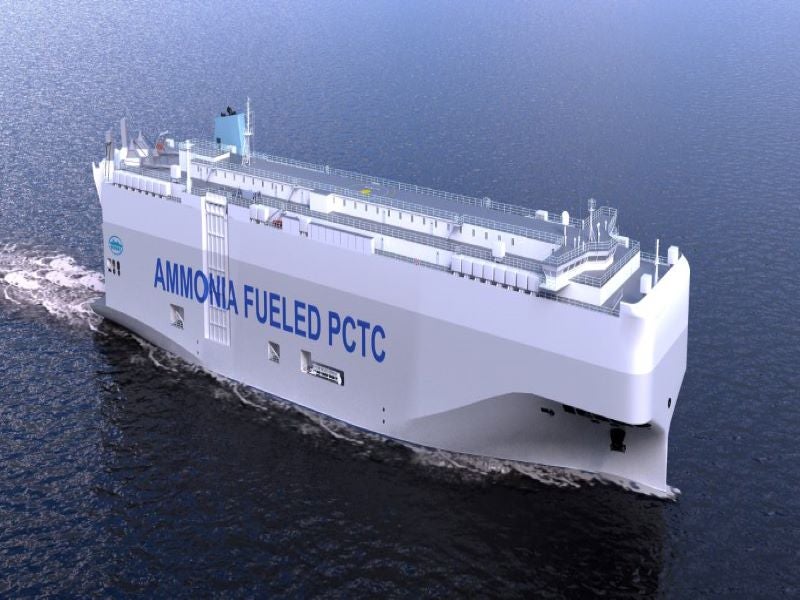 The Shanghai Merchant Ship Design and Research Institute (SDARI) has secured approval in principle (AiP) from the Norwegian classification society DNV for the design of an ammonia-powered pure car and truck carrier (PCTC).
The 7,000-car equivalent unit (CEU) vessel is claimed to be the first ammonia-driven PCTC design from China.
DNV Approval Centres in Shanghai and Norway ensured that the design is in line with the latest DNV gas fuelled ammonia notation.
The vessel will include clean features such as shore power, battery/hybrid, and NOx Tier III, to cut down emissions.
As defined in DNV's F(C) notation, the design also incorporates improved fire safety measures including heat detectors, video monitoring, and CO₂ fire extinction systems.
SDARI chief engineer Wang Gangyi said: "SDARI and DNV further seek to strengthen our cooperation in the future, and aim to jointly launch more new energy transportation solutions in other ship types."
Using SDARI's current LNG-fuelled 7,000 CEU PCTC, the research and development (R&D) was carried out for the design of the new vessel.
DNV noted that seven owners placed 29 newbuilding orders last year.
DNV regional manager Norbert Kray said: "Currently, car carrier newbuilding orders are 100% LNG dual-fuelled, in which SDARI takes a majority share.
"With this new ammonia-fuelled 7,000 CEU PCTC design, SDARI is further cementing its leading role in the industry."
This year in January, American Bureau of Shipping (ABS) joined forces with SDTR Marine, and SDARI, for the design of a new methanol-fuelled bulk carrier.