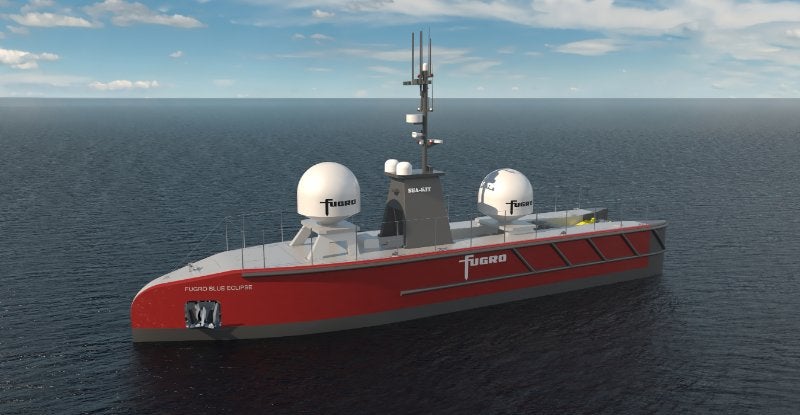 UK-based company SEA-KIT has secured a new order to deliver an XL Class Uncrewed Surface Vessel (USV) to geo-data specialist Fugro.
The vessel will be used by Fugro to support its operations in the North Sea.
The 18m long SEA-KIT XL USV, the first of its kind, will be capable of launching and recovering an array of remotely operated vehicles (ROV) and payloads.
It will have a seven-tonne payload capacity and stronger bollard pull, which will be capable of towing spreads and larger sensors.
Additionally, SEA-KIT will equip the USV with its remote helm USV control and surveillance platform, called G-SAVI.
SEA-KIT CEO Ben Simpson said: "Following the successful delivery and award-winning operations of the 12m vessels built so far for Fugro, we are delighted to announce this order for the first, larger SEA-KIT XL Class USV.
"The XL design is a result of industry collaboration aimed at overcoming the complex challenges of effective uncrewed operations at long range in heavy seas.
"Our 18m USV will push the boundaries of robustness and versatility, meeting the increased challenges of endurance, communications and station keeping head on."
The company will build the vessel at its production facility on the Essex coast.
Fugro Remote Inspection director Ivar de Josselin de Jong said: "This order is an exciting next step in the roll out of Fugro's remote and autonomous strategy and the development of our global USV fleet."
He added: "Equipped with the Fugro Blue Amp electric eROV and being operated from one of our nine global remote operations centres (ROC), we will be able to support our clients in achieving safer and more efficient data collection operations, whilst contributing to our mutual carbon footprint reduction ambitions."
The SEA-KIT XL USV is expected to be delivered early next year.
Last year, Fugro ordered Sonardyne's underwater positioning and communications technology to power its USVs and ROVs.