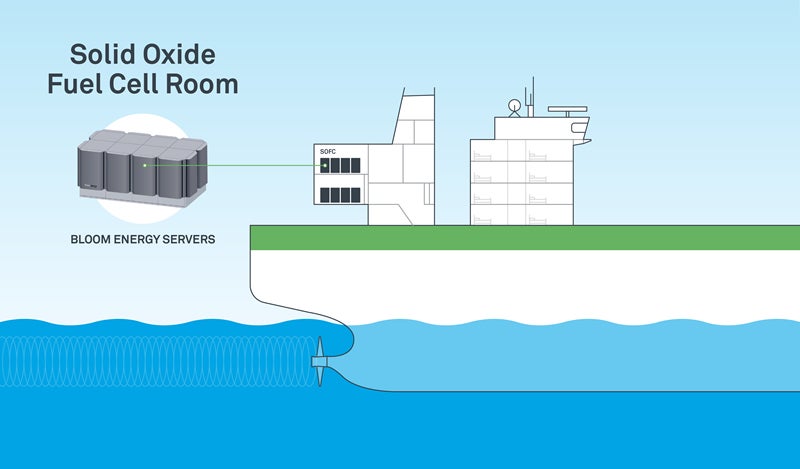 South Korean shipbuilder Samsung Heavy Industries (SHI) has partnered with Bloom Energy to design and build ships, powered by solid oxide fuel cell technology.
According to the agreement, SHI will use Bloom Energy's stationary fuel cells to deliver a large cargo ship.
The solid oxide fuel cell-powered ship will use natural gas to generate power.
Bloom Energy said that its solid oxide fuel cells generate electric power using an electrochemical reaction without combustion. The process almost eliminates particulate nitrogen oxide (NOx) and sulphur oxide (SOx) emissions.
It is estimated that fuel cell technology will cut greenhouse gas emissions from marine transport by 45%.
The partners have already taken the first step towards commercialising the use of fuel cells for propulsion and auxiliary power for the maritime industry.
To develop a fuel cell-powered ship design for Aframax crude oil tankers (COTs), SHI and Bloom Energy have secured approval in principle (AIP) from Norwegian ship classification organisation DNV GL.
SHI outfitting engineering team vice-president Kyunghee Kim said: "As regulations to reduce GHG emissions take effect step-by-step, the introduction of fuel cells to vessels is inevitable.
"This approval, and being the first shipbuilder to secure this marine fuel cell technology, illustrates that Samsung Heavy is highly likely to lead the market."
Currently, almost 80% of the shipping fleet uses heavy fuel oil or bunker fuel that produces carbon emissions between 2% and 3% across the globe.
Adapting to the electrochemical conversion of liquid natural gas (LNG) through fuel cells will significantly reduce carbon emissions in the marine transportation industry.
The burning of bunker fuel also leads to emissions of sulphur and particulate matter that causes respiratory diseases.
Almost 14 million cases of childhood asthma a year were reported due to pollution caused by combustion of bunker fuels in ships, according to a 2018 study.
It also led to around 400,000 premature deaths annually due to lung cancer and cardiovascular disease.
Bloom Energy founder, chairman and CEO KR Sridhar said: "Bloom Energy has already helped companies around the world reduce their carbon emissions by more than four billion pounds of CO₂.
"Bringing the Bloom Energy server's transformative clean technology to the shipping industry provides us with a tremendously exciting opportunity to accelerate the decarbonisation of another vital sector of the global economy."