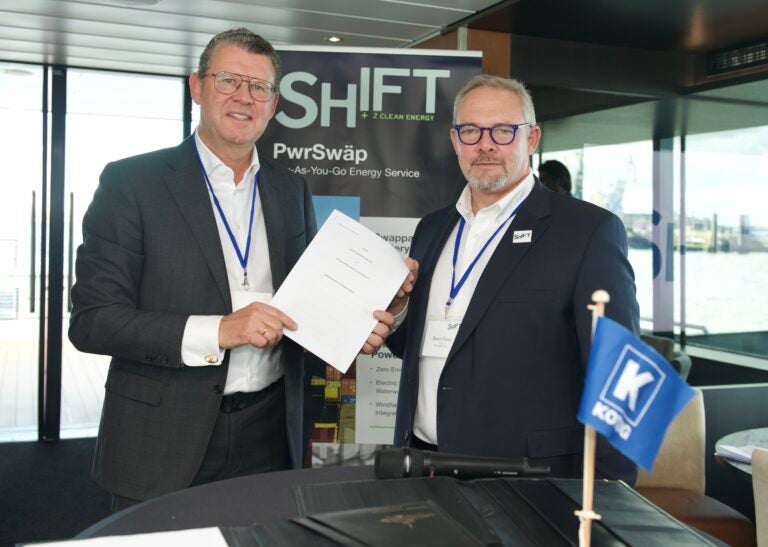 Shift Clean Energy has signed a memorandum of understanding (MoU) for the delivery of its new PwrSwäp clean energy service for use in the Netherlands-based KOTUG International E-Pusher vessels.
Shift's PwrSwäp clean energy service utilises swappable batteries on a pay-as-you-go module to provide energy.
PwrSwäp is said to offer 100% uptime while reducing maintenance costs and carbon emissions.
Through zero-emission shipping and logistics services, the partnership is expected to help the maritime sector meet its environmental, social and governance (ESG) goals at an economical cost.
Kotug provides several 'modular and scalable' electric pusher tugs, the E-Pusher Series, which are driven by swappable energy containers.
The E-Pusher features a draft that is 30% less than conventional pusher tug designs.
Its modular design enables the E-Pusher to provide a 50% faster delivery time, enabling several ships to meet different waterway requirements.
Additionally, Kotug will use its 'advanced' dispatching, Kotug OptiPort route and reporting tool to provide smart operations.
Port and terminal information will also be linked to ship operations with the use of an automated dispatching system that runs on the basis of historical and real-time information.
Shift CEO Brent Perry said: "The message of COP26 is clear; we have to make changes now, with no time to waste. Shipping accounts for significant greenhouse gas (GHG) emissions, contributing to climate change, as well as particulates that are unhealthy for communities living near ports and inland waterways. PwrSwäp and E-Pusher bring zero-emissions solutions today."
Kotug president and CEO Ard-Jan Kooren said: "Combining our services paves the way for ready to market zero-emission solutions. Our modular and scalable E-Pusher design is readily available for large scale assembly. We look forward to a fruitful cooperation."
In May last year, Kotug took over the offshore and marine terminal service centre Marsol International, headquartered in Dubai.