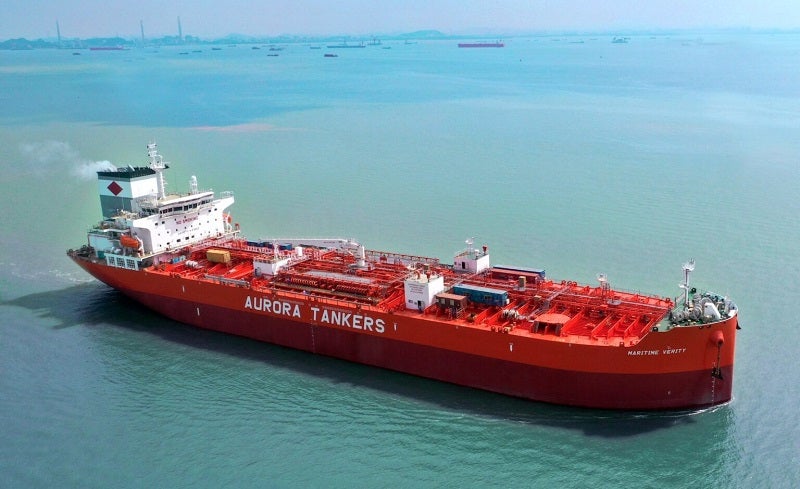 Singapore-based IMC Shipping tanker unit Aurora Tankers has concluded a newbuilding series of tankers with the launch of a chemical vessel.
The 50,000 deadweight tonnage (dwt) International Maritime Organization (IMO) II MR chemical tanker, named Maritime Verity, is the last in a series of eight ships that were commissioned in 2017 to Aurora Tankers in a joint venture with CSSC Shipping.
Maritime Verity will join Aurora Tankers' fleet of 22 coated chemical tankers.
IMC Industrial Group shipping managing director Frederik Guttormsen said: "Beyond renewing our fleet with modern tonnage to provide our customers with safe, reliable and cost-effective voyages, we are looking to double the number of vessels in our pool, building on our positive view of the forward chemical market.
"The first seven ships of the series have been received positively by our customers and achieved encouraging performance levels."
IMC Shipping's in-house newbuilding consultancy, ship conversion and engineering project services division undertook the responsibility of the conceptualisation, supervision and development of the new vessels.
These new ships feature 22 cargo tanks each and are equipped with Exhaust Gas Cleaning Systems (SOx scrubber).
As a result, the vessels will be able to fulfil the IMO's Energy Efficient Design Index Phase 3 specifications with a reduction of more than 30% in carbon emissions.
These new ships also feature real-time vessel performance monitoring systems.
For efficient fuel consumption and a smaller carbon footprint, they support energy-efficient engine room operations and are loaded with cargo handling systems.
Guttormsen added: "Our transformation from a traditional shipowner to a services-focused operator is well underway. We have stayed resilient against the challenges of Covid-19 and continue to leverage our legacy knowledge and expertise to expand our business capabilities.
"We are making strategic investments in digital solutions, developing integrated services and forging partnerships that create value for customers and sharpen their competitive edge."
With more than 25 years of experience in liquid bulk shipping, Aurora Tankers has offices in Singapore; Shanghai, China; Houston, US; Dubai, UAE; Seoul, South Korea; and Tokyo, Japan.