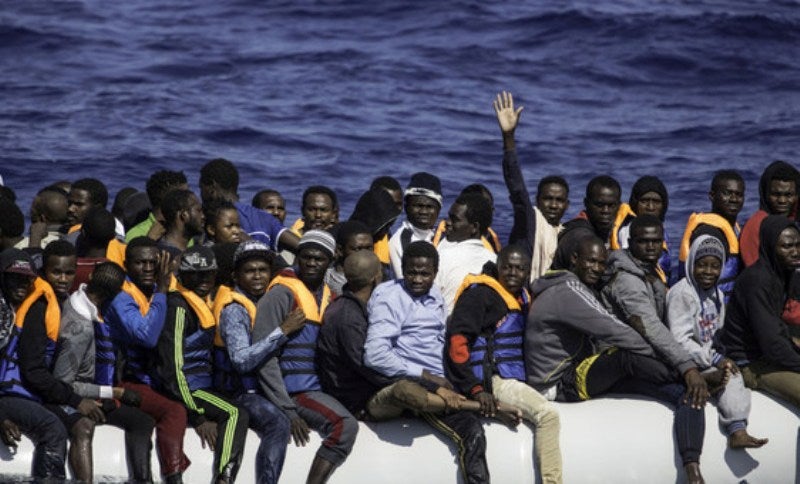 A new report from the United Nations High Commissioner for Refugees (UNHCR) has revealed that six people died every day last year while trying to cross the Mediterranean Sea to reach Europe.
The data has marked the sea route as 'the world's deadliest sea crossing'.
According to the new 'Desperate Journeys' report, around 2,275 people died or went missing in the Mediterranean last year.
A total of 139,300 refugees and migrants arrived in Europe last year, representing the lowest number of individuals who came to the continent in five years.
UN High Commissioner for Refugees Filippo Grandi said: "Saving lives at sea is not a choice, nor a matter of politics, but an age-old obligation.
"We can put an end to these tragedies by having the courage and vision to look beyond the next boat and adopt a long-term approach based on regional cooperation that places human life and dignity at its core."
The latest report also highlights the incidents caused by shifts in policy by some European countries. The new policies resulted in the stranding of a large number of people at sea for days and waiting for permission to reach the shore.
It was also revealed in the report that on routes from Libya to Europe, one person died at sea for every 14 who arrived, which is up from the one death for every 38 arrivals recorded in 2017.
"We can put an end to these tragedies by having the courage and vision to look beyond the next boat."
Responding to a call made by UNHCR and International Organization for Migration (IOM) in June, various European countries promised to relocate people rescued on the central Mediterranean.
However, there is a standstill on a joint regional approach to sea rescue and disembarkation.
The 'Desperate Journeys' report also mentioned the changes in routes used by refugees and migrants.
Changes in route have made Spain the primary entry point to Europe for the first time in recent years with around 6,800 arrivals by land. The country also saw the arrival of 58,600 people who crossed the dangerous Western Mediterranean route.