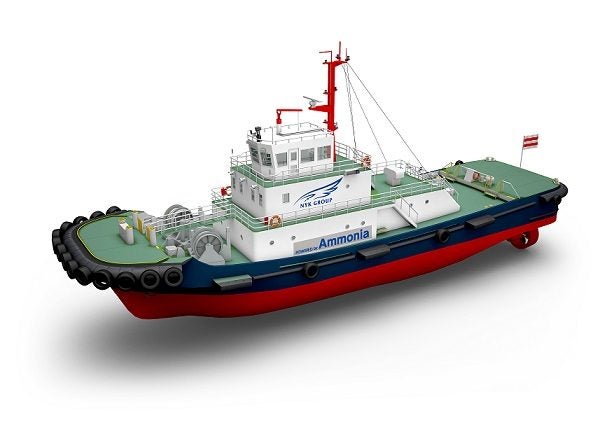 NYK Line, ClassNK and IHI Power Systems have signed a joint research and development (R&D) agreement to explore the practical use of the first ammonia-fuelled tugboat in the world.
Following the Paris Agreement in 2016, the call for decarbonisation gained momentum and the shipping sector was planning to reduce greenhouse gas (GHG) emissions.
In 2018, the International Maritime Organisation (IMO) aimed to reduce GHG emissions from the shipping sector by 50% by 2050.
Ammonia does not emit carbon dioxide (CO₂) when burned, and because of that, it is viewed as the next-generation fuel, which will help reduce the impact of shipping on global warming.
In 2015, the three companies developed Sakigake, the liquefied natural gas (LNG)-fuelled tugboat, which was the first LNG-fuelled ship in Japan.
The companies will carry out the R&D from the technical and operational aspects to introduce ammonia for tugboats.
This year, the companies plan to explore the technological development of the hull, engine and fuel supply system, as well as the safety navigation methods development.
Following the evaluation of the practicality from the data, the companies will commence the study into the construction of the ammonia-fuelled tugboat and the construction plan.
NYK Line will be responsible for the research and design of hull and fuel supply system and the validation of the operation method.
IHI Power Systems will explore the design of exhaust gas after-treatment devices and engine while ClassNK will carry out the tugboat's safety assessment.
Last month, NYK Line, Japan Marine United Corporation and ClassNK signed a joint R&D agreement to commercialise an ammonia-fuelled ammonia gas carrier (AFAGC).