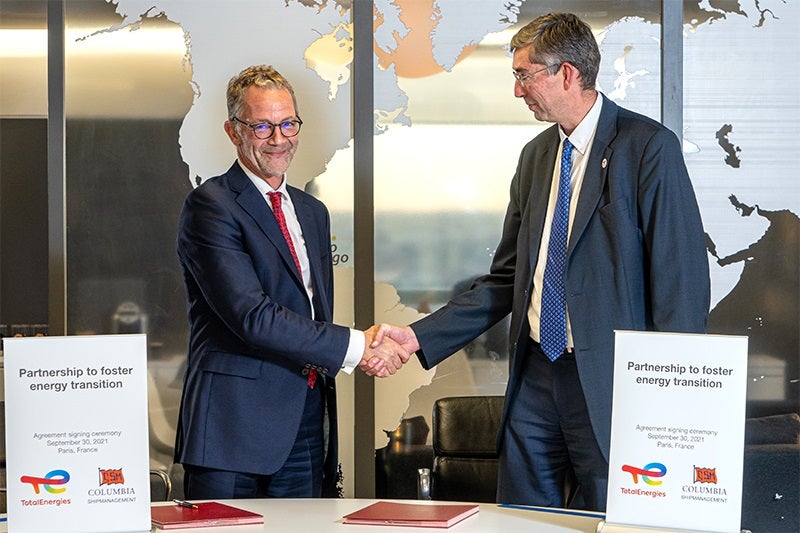 France's TotalEnergies and Cyprus-based Columbia Shipmanagement (CSM) have entered into a memorandum of understanding (MoU) to explore several collaborative prospects that would promote energy transition.
The partners will team up to advance the process of a 'green revolution' in shipping.
This will be accomplished by combining TotalEnergies' expertise in green technologies in the energy sector with CSM's maritime industry experience.
Under the alliance, the companies will develop a lube oil monitoring, optimisation and supply platform that will use the current capabilities of CSM's Performance Optimisation Control Room (POCR).
According to CSM, the new developments will focus on providing value to final clients.
Furthermore, the partners will work together on sustainability and climate innovative technologies.
Both firms will use their current resources for developing alternative propulsion and marine fuel systems, along with environmentally friendly waste management services.
Resources will also be used to explore the potential of renewable energy projects in several geographies.
CSM president and CEO Mark O'Neil said: "TotalEnergies' experience in the renewable energy field is vast and we are very excited about using our extensive knowledge of the maritime sector to complement their endeavours.
"Efforts to investigate lube oil optimisation strategies, renewable technologies and opportunities highlights both TotalEnergies' and CSM's commitment to creating long-lasting and cost-effective renewable technology solutions on the world stage."
TotalEnergies lubricants and specialities marketing and services senior vice-president Philippe Charleux said: "This partnership is fully in line with our objective to reduce our carbon emissions and to support our customers on the same path by offering and developing with them innovative solutions."
In July, Abu Dhabi Maritime Academy and CSM signed a memorandum of understanding (MoU) to develop training programmes together.