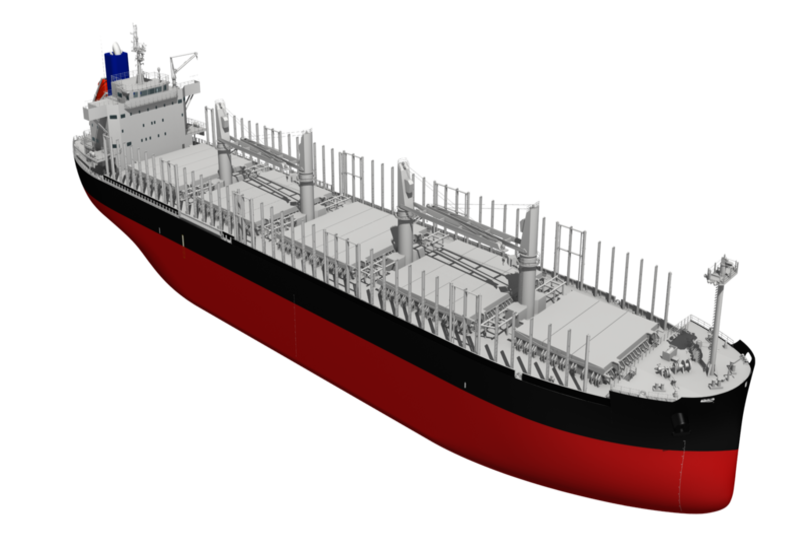 Tsuneishi Shipbuilding has won a contract from an unidentified Japanese shipowner for 42,000t-log and bulk carriers TESS42 to improve its transportation capability.
Under the contract, the first carrier will be built at Tsuneishi Group (Zhoushan) Shipbuilding in China.
The TESS42 series ship has an additional 2,000t deadweight capacity at the same draft as the TESS38 design and nearly 4,000t at full load.
It is fitted with a cargo securing device for carrying logs on the deck that enables the ship to transport both logs and bulk cargo at the same time.
In addition, the vessels features four deck cranes, wide-opening hatch covers, and semi-box-type cargo holds suitable for transporting steel products.
Tsuneishi Shipbuilding said that the ship is also equipped with a scrubber to meet the requirements of IMO 2020. It is in compliance with the nitrous oxides emission Tier III regulation.
Through a combination of electronically-controlled engine and other efficient equipment, the ship reduces the fuel consumption by 4% for the TESS42 compared to its older sibling TESS38.
A combination of optimisation and a more efficient electronically controlled engine means that fuel consumption is reduced by 4% for the TESS42 versus the TESS38 at the same load and draft.
TESS42 is the newest model in the Tsuneishi Economical Standard Ship (TESS) series which also includes other models such as TESS40, TESS45, TESS52, TESS58, TESS64, and TESS98.
Under, the TESS series, the company has built more than 400 ships so far.
Tsuneishi Shipbuilding has manufacturing bases in Japan (Tsuneishi Factory) and three overseas factories in the Philippines, China, and Paraguay. It builds container carriers, tankers, cruise ship, 30,000t to 180,000t class bulk carriers, and other ships.