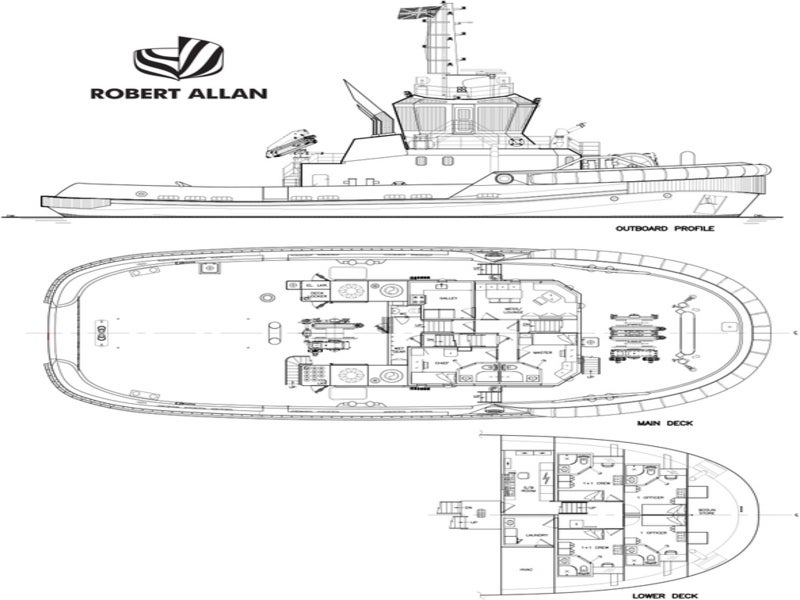 Turkey's Sanmar Shipyards has started the construction of a new series of RAstar 3200-SX tugs, a twin Z-drive, diesel-powered vessel, designed for the performance of ship-handling, towing and escort duties.
Designed by Robert Allan, the vessels are key additions to the lineup of Sanmar built tugs. The tugs are named the Kocaçay series after a large river in Turkey.
Robert Allan said that this range of tug starts at the highly capable 15m RAscal 1500 line-handling tugs and ranges up to the 34m-long RAstar 3400 escort tugs.
Currently, the first two vessels are being built for Orkney Islands Council Marine Services.
Compared to other high-performance escort tugs, the RAstar 3200-SX tugs have deliberately been designed with a shallower draft and feature other input and collaboration with Sanmar.
The RAstar 3200-SX escort / ship-assist tugs are equipped for operations over the bow and stern, with an escort winch at the bow for escorting and ship handling operations.
It also features a towing winch, towing pins and rounded transom at the stern for towing.
THe main propulsion for each tug includes a pair of CAT 3516C diesel engines, each rated at 2,350kW or 2,525kW at 1,800rpm, and each driving a Rolls Royce US 255 P30 CP Z-drive unit.
Both engines are expected to produce a free running speed of more than 13.5k with an expected bollard pull of up to 84t ahead from the higher power rating.
The construction of the new series of RAstar 3200-SX tugs started in March this year.