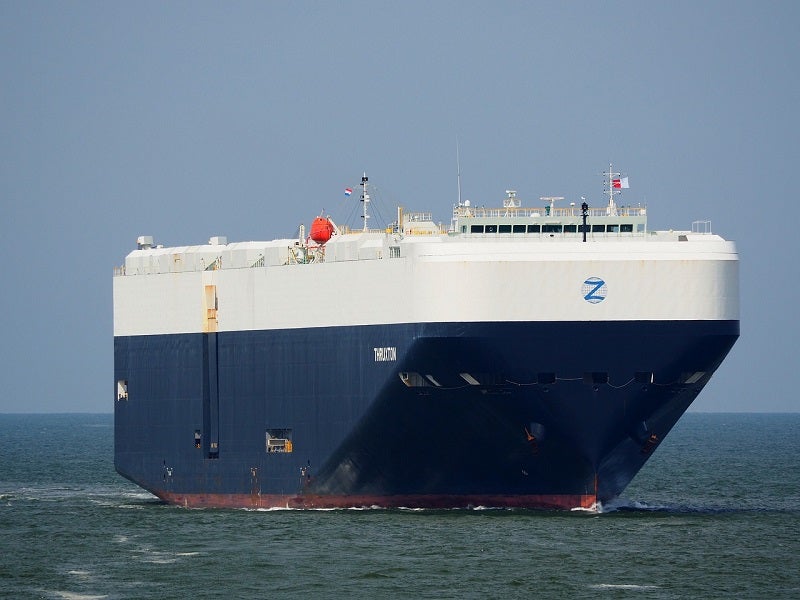 Norwegian roll-on/roll-off shipping line United European Car Carriers (UECC) has taken delivery of its first dual-fuel liquefied natural gas (LNG) battery hybrid pure car and truck carrier (PCTC).
To be called Auto Advance, the vessel is said to be the world's first dual-fuel LNG battery hybrid PCTC.
Auto Advance is the first in a series of three newbuild PCTCs to be delivered from China's Jiangnan Shipyard.
With a capacity for 3,600 vehicles across ten cargo decks, the new ships will have a length of 169m and width of 28m.
The other two PCTCs are slated to be delivered next year.
For the development of the innovative new designs, UECC partnered with DNV and Jiangnan's in-house ship designer, Shanghai Merchant Ship Design & Research Institute.
The newbuilds will feature optimised hull design as well as LNG battery hybrid technology.
Consequently, they will be able to surpass the International Maritime Organization (IMO) requirement to reduce carbon intensity by 40% from 2008 levels by 2030.
They will operate on LNG, which will lower CO₂ emissions by nearly 25%, SOx and particulate matter by 90%, and NOx by 85%.
Additionally, the new ships will comply with the limitations of the IMO's Tier 3 NOx emissions for the North and Baltic Seas.
The ships will be equipped with dual-fuel engine technology and an energy storage system (ESS), both provided by Finland's WE Tech.
They will also feature Corvus Energy's battery package, which will be charged using a permanent magnet, directly driven shaft generator or dual-fuelled generators.
Apart from the main engine, the newbuilds will be loaded with two auxiliary dual-fuel gensets.
The hybrid solution on the vessels, which has received DNV's Battery Safety notation, will be operated by Kongsberg Maritime's energy management system.
This will function as the control system for the entire energy production and consumption on the PCTC.
Jiangnan Shipyard unveiled the second LNG battery hybrid PCTC ordered by UECC in August.