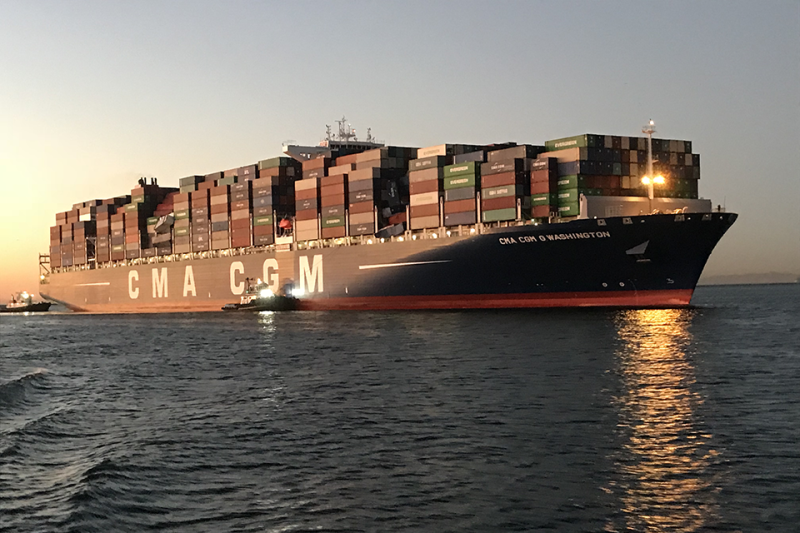 The UK Government's Marine Accident Investigation Branch (MAIB) has published a report regarding the incident, in which the UK-flagged CMA CGM Washington lost 137 containers after three container bays collapsed.
The incident occurred on 20 January 2018 when the container ship rolled 20° to starboard. Then, it stopped for a few seconds and rolled 20° portside.
The ship was on-route to Los Angeles, US, from Xiamen, China, when it experienced heavy waves in the North Pacific Ocean.
The next morning, the crew discovered that three bays, 54, 58 and 18, collapsed, which led to the loss of 137 containers and damage of another 85.
During the investigation, MAIB found that reduced structural strength of the non-standard 53ft containers, inaccurate container weight declarations, misstowed containers and loose lashings led to the loss of cargo.
During high turbulence, bay 54 collapsed as the acceleration forces were higher than the structural strength of containers that were stored in the bay.
Bay 58 also collapsed as the 53ft containers collided with other containers and then fell overboard.
Bay 18 collapsed due to a combination of factors but it was most likely initiated by the failure of one or more of the containers stowed there.
MAIB provided its recommendations to CMA CGM, Maritime and Coastguard Agency and Bureau Veritas.
MAIB recommended that CMA ships need to weigh containers frequently before they are loaded and that the cargo plan is to be updated to reflect these weights.
Currently, CMA CGM G Washington vessel is registered in Malta.
In September 2019, CMA CGM launched a new French-flagged containership fuelled by liquefied natural gas (LNG).