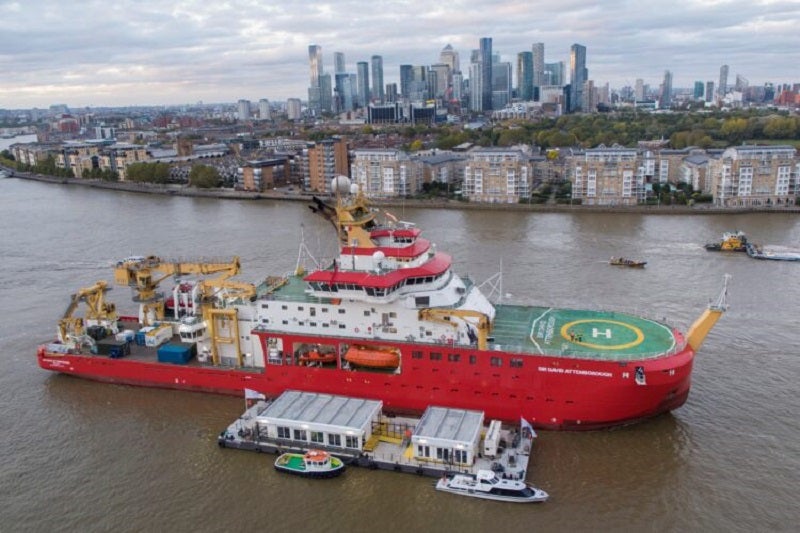 The UK's new polar research vessel, the RRS Sir David Attenborough, has concluded basic sea trials, making its London debut in Greenwich in support of the United Nations Climate Change Conference (COP26).
The vessel is ready to undertake its first Antarctic mission later in the year.
The new research platform has been commissioned by the Natural Environment Research Council (NERC), which is part of UK Research and Innovation (UKRI).
Built by British shipbuilding company Cammell Laird, the vessel will be operated by British Antarctic Survey (BAS).
RRS Sir David Attenborough is expected to 'transform' how ship-borne science is carried out in the polar regions.
The ship has been introduced under a government polar infrastructure investment programme with an aim to keep 'Britain at the forefront of world-leading research in Antarctica and the Arctic'.
Secretary of State for International Trade Anne-Marie Trevelyan said: "With COP26 only days away, it's incredible to see the new RRS Sir David Attenborough and hear about the world-leading and ground-breaking research it will complete in the Antarctic and Arctic regions.
"Research, science and innovation are at the heart of the UK's COP26 goals and at the forefront of our own climate action, from the British Antarctic Survey's ongoing work to the Adaptation Research Alliance being launched at COP."
Meanwhile, in the recent autumn budget, it was announced that international shipping firms will get tax breaks on flying the red ensign, the UK's merchant shipping flag, starting from April next year.
Announced by British Chancellor of the Exchequer Rishi Sunak, this move is intended to attract more global shipping firms to the UK.
"When we were in the old EU system, ships in Tonnage Tax regime were required to fly the flag of an EU state. But that doesn't make sense for an independent nation," he said.
The UK's tonnage tax regime allows shipping companies to pay less tax by paying on the basis of the amount they can transport instead of the profits they earn annually.