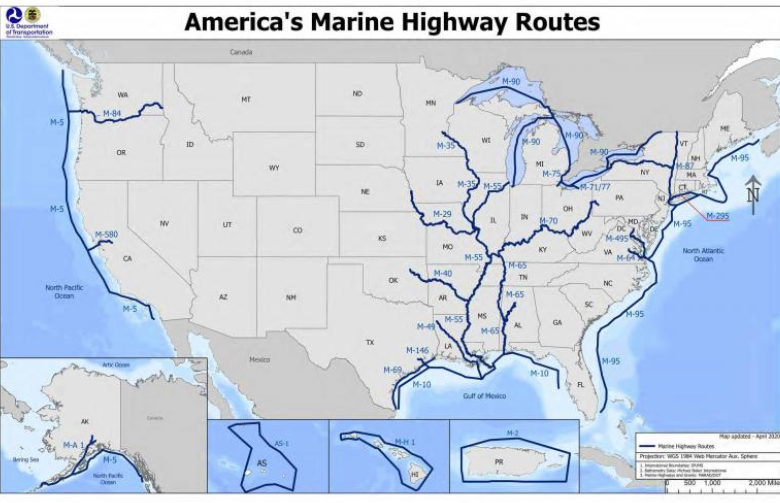 The US Transport Secretary Elaine L. Chao has awarded $9.5m in grants to eight marine highway projects.
The projects, part of the America's Marine Highway programme, will receive the funding as they contribute to the enhancement of navigable waterways, expanding waterborne freight services in several states including, New York, New Jersey and Washington.
"This federal assistance will provide additional options to reduce congestion on the roads and help the surrounding local communities' and the regions' economic recovery," said Chao.
Out of eight projects that were awarded funding, seven are situated in Opportunity Zones, areas created by the US Government to revitalise low-income communities through private investments.
In New York, funds were granted to support the launch of a new barge service between New Jersey's Kearny Point and New York's Newtown Creek.
The sum awarded – which will fund the planning, permitting operations, as well as engineering studies – will allow to transform New York's harbour and its ports into a central marine highway hub for barge services.
Another project will consist in the expansion of barge services from Oregon to the suburb of Vancouver, in the state of Washington.
"The continued expansion and modernization of the U.S. marine transportation system benefits the maritime industry," said Mark H. Buzby, maritime administrator at the United States Maritime Administration.
"US waterway freight systems offer a safe and efficient option for shippers and reduce road traffic and emissions while providing jobs, commerce, and crucial resources to dozens of communities across multiple states."
The America's Marine Highway programme was established in 2007 with the aim to develop marine highway service options as well as promote waterways as a viable alternative to transportation and shipping.
As of today, there are 25 marine highway routes in the US, serving as a relief in areas that suffer from traffic congestion and high levels of CO2 emissions.