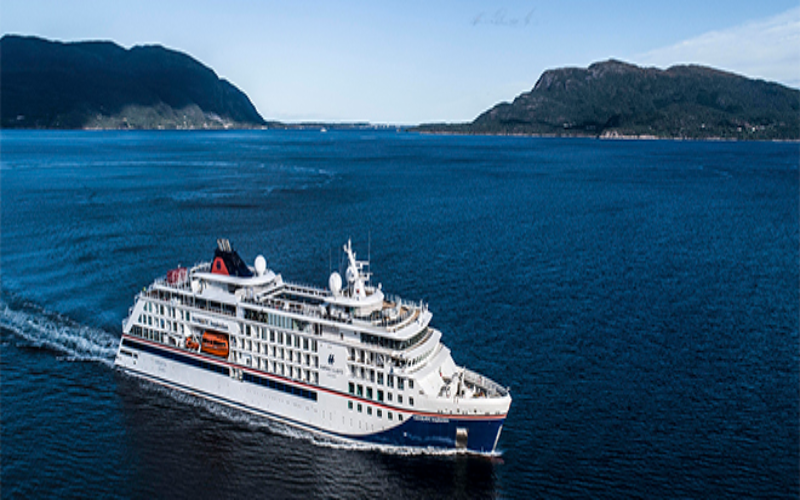 Germany-based shipping line Hapag-Lloyd Cruises has received the luxury cruise vessel Hanseatic Inspiration delivery from the Norwegian shipbuilder Vard Marine (VARD).
It is the second ship in the series of new luxury cruise vessels that VARD built for the German cruise liner. The shipbuilder previously constructed the sister ship Hanseatic Nature.
The third vessel Hanseatic Spirit is expected to be delivered by 2021.
Hanseatic Inspiration has a capacity of 16,000GWT. The vessel features seven spacious passenger decks. Equipped with 120 luxury cabins, the ship is capable of accommodating a total of 230 passengers.
The cruise ship also features a water sports marina, as well as spa and fitness areas.
Hanseatic Inspiration incorporates VARD 6 07 design by Vard Design in Alesund, Norway.
Vard Tulcea in Romania constructed the ship's 139m-long and 22m-wide hull. The ship received the final outfitting in Vard Langsten, Norway, in March.
Fincantieri Group's Marine Interiors and VARD's subsidiaries Vard Electro, Vard Accommodation and Vard Piping delivered the components that were fitted into the ship.
Vard Langsten director Ronny Langset said: "I am delighted to deliver Hanseatic Inspiration, the second high class, expedition cruise vessel in this new Hanseatic series from the VARD network to Hapag-Lloyd Cruises.
"It is always a pleasure to see the teamwork and interaction between all involved partners in such advanced projects – the solution-oriented and hard work of our employees, the classification society DNV GL and all contractors and suppliers, in harmony with the excellent collaboration with the team at Hapag-Lloyd Cruises."
Hanseatic Inspiration will be operated by a team of 175 crew members. The vessel has also obtained the DNV class PC6 high-ice classification for passenger ships.