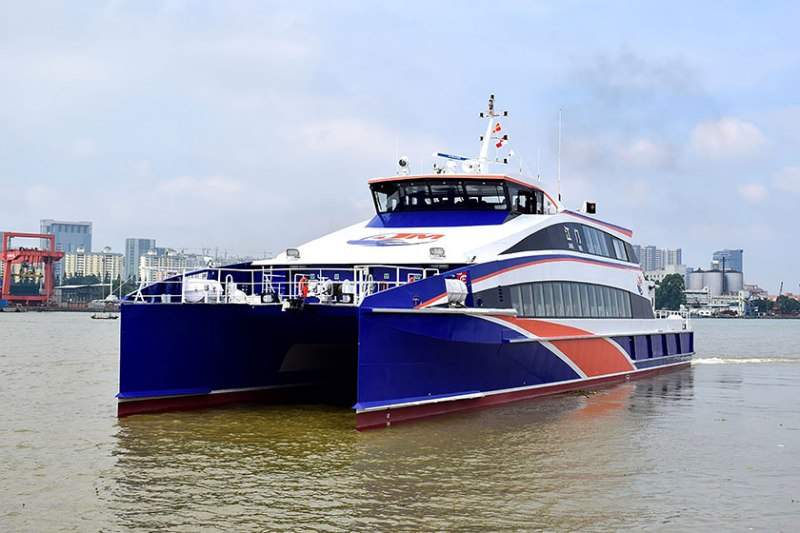 Hong Kong-based Wang Tak has launched a new 40m catamaran passenger ferry, Jiang Men, which will serve the Chinese market.
Designed by Incat Crowther, the ferry is said to consume 8% less fuel compared to its predecessors.
Jiang Men is the third in a series of vessels that began with the construction of Shi Zi Yang 7 in 2016.
It is designed to carry 199 passengers, including 162 economy class passengers on the main deck, as well as 37 passengers on business class and VIP seats on the upper deck.
Jiang Men is equipped with a large crew area at the aft end of the main deck, comprising sleeping quarters, mess room and pantry.
The economy seats on the deck, where a business class cabin, three toilets, luggage racks and a kiosk are located, are placed in a 2-3-3-2 layout.
The vessel's upper deck features 28 business class seats and has two VIP rooms on its aft.
"The ferry is said to consume 8% less fuel compared to its predecessors."
Powered by two MTU 16V2000 M72 main engines, Jiang Men uses MJP 650 CSU water jets to travel at a maximum speed of 31k.
The vessel also includes several configurations such as clear overhead removal paths for the main engines and large switchboard / utility spaces adjacent to the engine rooms.
Jiang Men is developed in line with China Classification Society's (CCS) latest rules for sea-going high-speed vessels.
In October, Gladding-Hearn Shipbuilding launched a 27m catamaran passenger ferry designed by Incat Crowther. The launch represented the 500th launch of vessel designed by Incat Crowther.