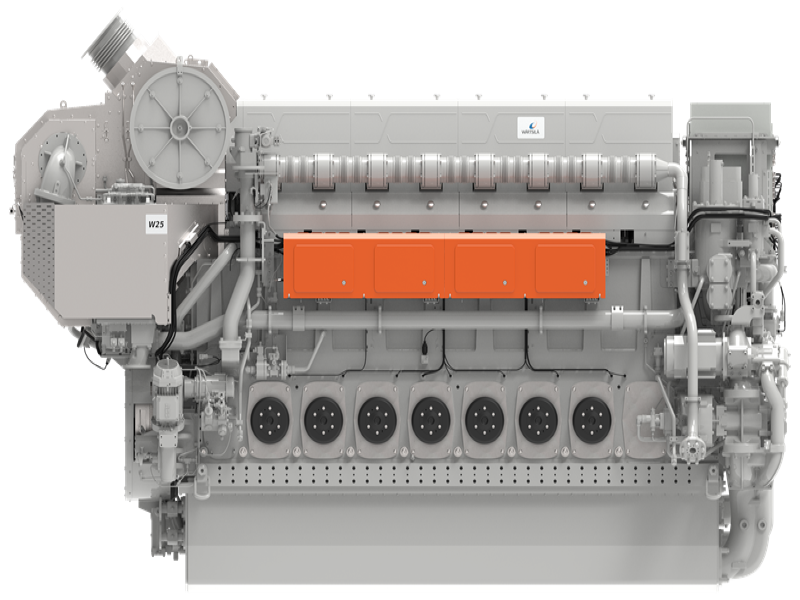 Finnish technology firm Wärtsilä has launched a new medium-speed four-stroke engine to help the maritime sector reach its decarbonisation goals.
Dubbed Wärtsilä 25, the new engine is based on the firm's modular technology platform and can run on diesel, liquefied natural gas (LNG), or either gas or liquid carbon-neutral biofuels.
The engine also has the flexibility to be upgraded to run on carbon-free fuels. Its different valve timing options are expected to support the use of future fuels and optimise emissions.
It is also claimed to be Wärtsilä's first engine capable of operating on ammonia as a fuel.
Designed for long periods of maintenance-free operation, the new engine enables dry-docking schedules with a time-between-overhauls (TBO) of up to 32,000 hours.
Available in 6L, 7L, 8L and 9L cylinder configurations, the engine includes a turbocharging system with a high-pressure ratio.
Its dual-fuel (DF) version delivers a power output ranging from 1.9MW to 3.1MW, while the diesel version offers a range of 2MW to 3.4MW.
Combustion and fuel-injection settings are said to be enhanced at all loads by the common-rail high-pressure fuel injection system.
The engine also features Wärtsilä's Expert Insight service, which uses 'self-learning proportional, integral, derivative (PID) control' to collect critical engine data for predictive maintenance, reporting and analysis purposes as well as to lower calibration requirements.
The engine will also be in line with regulations that include the International Maritime Organization's (IMO) CII and EEXI protocols, which will be implemented next year.
Wärtsilä executive vice-president and marine power president Roger Holm said: "This engine marks the beginning of a new era of future-proof medium speed, small-bore engines, and comes as an important step towards the maritime industry meeting its decarbonisation goals. The Wärtsilä 25 ticks all the boxes."