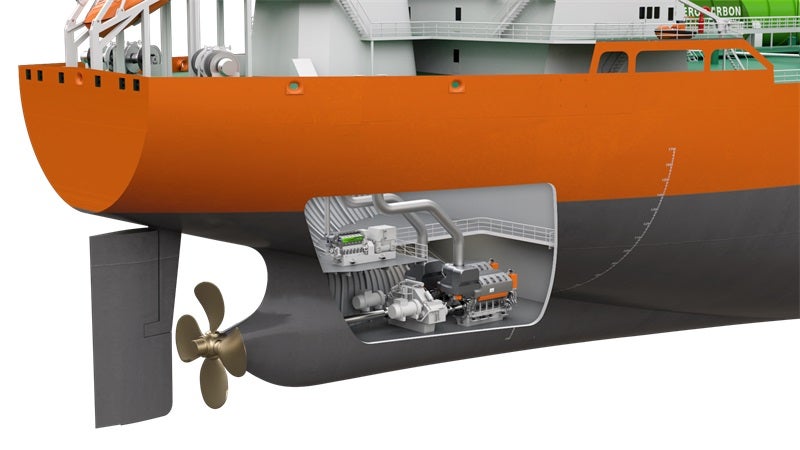 Wartsila, in collaboration with the classification society RINA, has introduced a new propulsion arrangement concept aimed at providing several benefits.
The new arrangement will optimise fuel consumption and attain emissions compliance as well as reduce both operational complexity and capital expenditure.
It is also expected to provide complete redundancy, along with less machinery.
As per the conventional ship design approach, four-stroke engines are used for electric power generation while two-stroke engines are utilised for propulsion.
The new arrangement from Wartsila and RINA requires only two four-stroke dual-fuel (DF) engines, along with the option for a small DF generator or electric power backup from batteries.
This arrangement is said to attain a reduction of around 50% from the Energy Efficiency Design Index (EEDI) reference level value, helping in achieving the 2030 targets set by International Maritime Organisation (IMO).
The concept highlights the Wartsila 31DF engines, which run on liquefied natural gas (LNG) fuel.
In a statement, Wartsila said: "Guinness World Records has recognised the diesel version of the Wartsila 31 engine type as being the world's most efficient four-stroke diesel engine."
This engine provides the flexibility to use upcoming zero-carbon fuels for facilitating decarbonisation.
RINA Greece marine technical director Antonios Trakakis said: "The combination of fewer running components and 100% redundancy, with a single engine capable of handling both propulsion and electric power, even in port, promotes both safety and reliability.
"The highly efficient Wartsila 31DF engine enables ship owners to reduce fuel costs, while at the same time being proactively prepared for the fuels of the future."
The new arrangement's system performance at current shipping speeds is said to offer the same or improved efficiency as against the equivalent two-stroke design.
At slower speeds, it can further lower fuel consumption and emissions.
Compared to the traditional propulsion systems, this arrangement is easy to incorporate as well as being cheaper.
Last week, Wartsila received orders to deliver its Inert Gas Generator (IGG) systems, along with the latest technology in radio and integrated navigation systems, for six new LNG carrier vessels.